Weather4D 2.0 is available Apple AppStore (*). After the success of the first two versions, APP4NAV company just revisit chart navigation on iPad and iPhone by integrating the timing dimension. With simulations and weather routing, navigation becomes predictive, allowing a constant anticipation of future weather conditions and sea state. This "navigation in the future", relied on the quality of meteorological and oceanographic predictions today available, was designed in order to bring a new dimension to the safety of boaters.
Navigation
The navigation function is based on the use of a raster charting exclusively from the most important international hydrographic services, as SHOM (¹). This choice is made possible thanks to technology implementation in application to present these charts in tiles with great fluidity. This official charting, having undergone any transformation, is the exact equivalent of publishers paper chart production, and therefore an undeniable guarantee of reliability (²). Cards are subject to a subscription by Publisher on the french Server Geogarage, that maintains a constantly updated global portfolio.
Weather
The app offers a completely redesigned ergonomics interface through the accumulated user experience for five years. It uses the principle of what has been the success of Weather4D : multiple forecasting models, multi-data display overlayed layers, continuous time scrolling automatic or manual , added to a high-quality graphic design using the most advanced development tools d & rsquo; Apple, facilitate the understanding of future weather phenomena. In addition, navigation and weather forecasts can be displayed in one or two windows (iPad only), providing a plurality of display combinations of the same zone : navigation and weather, weather forecast and waves or currents, comparison of different models. Dual windows can be dissociated to display the same area at different scales.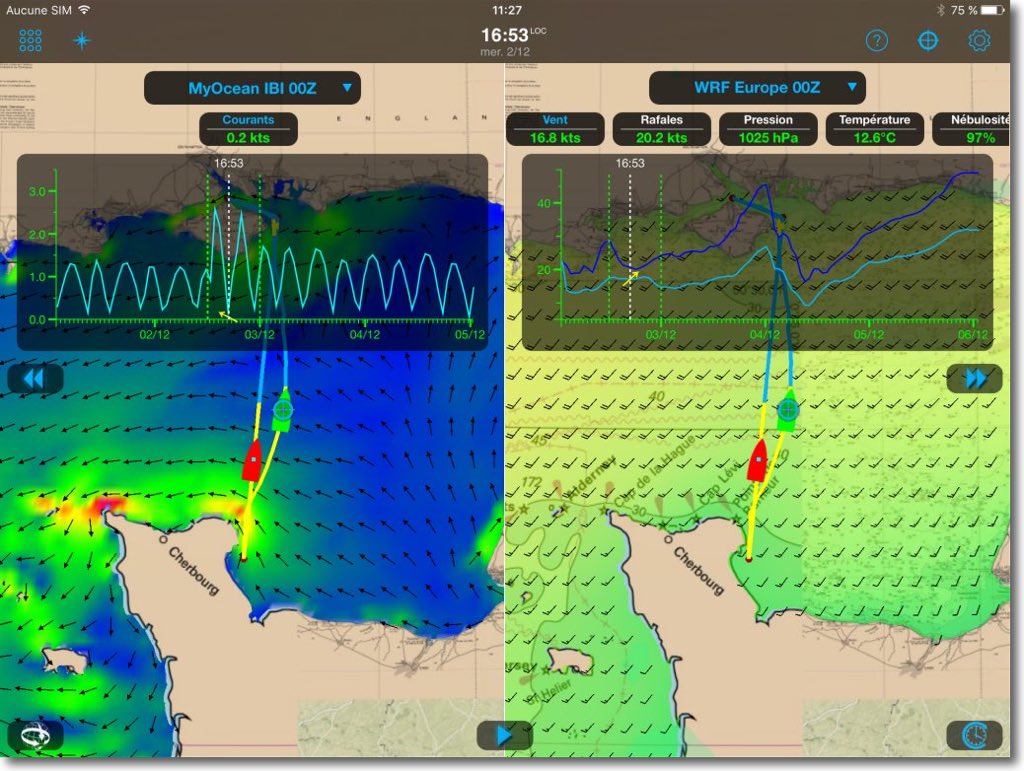 Weather4D 2.0 is supplied as standard with GFS 0.25° global forecasts model. Weather models NAM, COAMPS, WRF (USA), GEM (Canada), ARPEGE, FLAVOUR and aroma HD (France), and the WW3 wave patterns and currents MyOcean, are provided in a single pack available by annual subscription (in-app purchase). These files are integrated and controlled by APP4NAV and made available on its own servers.
Simulations and Routing
Weather4D 2.0 simulates future navigations "in an armchair". The boater can save waypoints, simulate routes, combine to GRIB forecasts models in order to optimize routes in the multi-routing module, compare depending on the options. In navigation mode, simply follow the best routing result, and compare in real time the conditions supported to weather model predictions using the displayed instruments. Indeed, in navigation mode, instruments display progress information in real time, and can receive data from the external Wi-Fi from onboard devices. During navigation, routing can be refreshed at any time from the actual position of the boat.
And then ?
Weather4D 2.0 supports TCP/IP connections for receiving NMEA data from most navigation systems. In the weeks that followed the publication of the application, will be added the support of AIS, Apple Watch support, dashboard instruments, tracks management associated with automatic logbook generation, a generator of requests Saildocs by satellite phone.
No doubt this application will help increase the attractiveness of tablets for navigation, providing a complete solution for responsible boaters, its ease of use, the wealth of information provided, connectivity allowing continuously updates, all features contributing to facilitate decisions of the skipper for the safety and comfort of the crew.
You can download the tutorial free user in French and in English accompanying the application, including 37 training videos. It was designed for use on iPad at the same time application is running thanks to Apple SPLITVIEW function (iPad Air2 and Pro only). Note that Weather4D 2.0 works only from iOS 9.0 and later.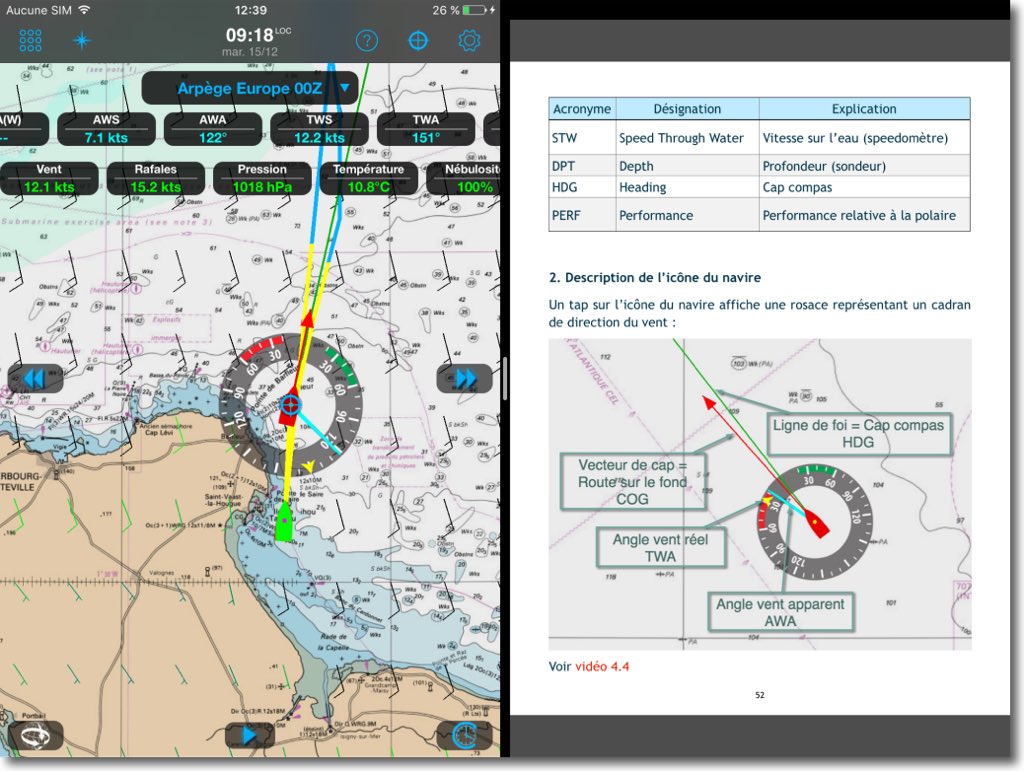 ———
(*) Charting subscription is available from Geogarage website with the link :
French : https://weather4d.geogarage.com/fr/
English : https://weather4d.geogarage.com/en/
———
(¹) To date, available publishers are : NOAA (USA), CHS (Canada), WLP (Bahamas), IHL (Brazil), SHN (Argentina), SHOM (France / DOM-TOM / Polynesia), UKHO (UK and dependencies), BSH (Germany), NLHO (Netherlands), AHS (Australia), LINZ (New Zealand).
(²) See my post Raster charts... the come back
———