You remember the launch of TimeZero in June 2013 and the interest aroused among the many users of MaxSea on PC. I wrote then :
MaxSea is already planning future developments in its application. The next major release will probably see the connection to external instruments WiFi, file transfers (waypoints, routes and tracks files) with other applications, perhaps openness to other charting editors
We waited, hoped, and then Pschiiitt ! More no developments since that date other cosmetic improvements in November 2013 before the Paris boat show. More no contact for me with the developers (I was tester for beta versions). More no news for a year until reported rumors of the last METS of Amsterdam stating that integrating ongoing development (finally) the AIS, and also the WiFi radar DRS4W Furuno. It is now made from the 23 April.
TimeZero 2.0 : AIS and Radar WiFi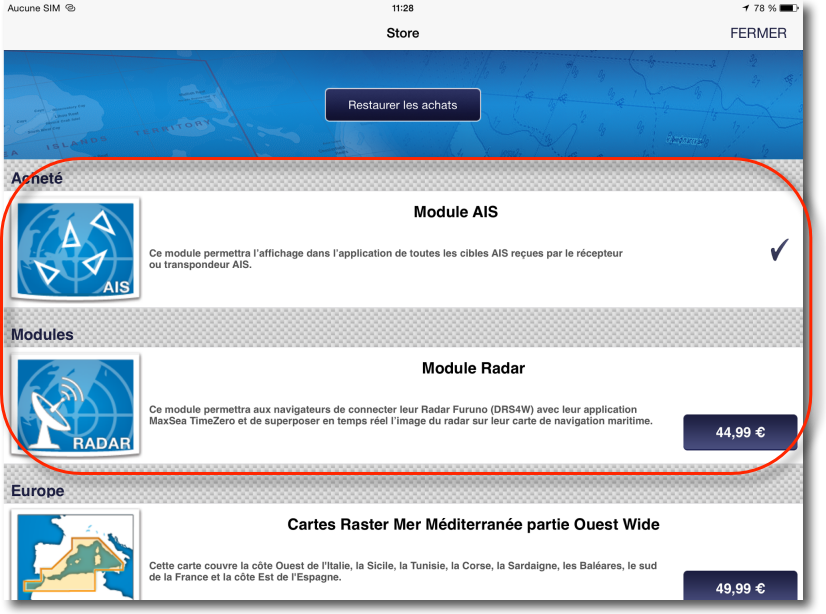 Two options enable functions : AIS for 9 € and Radar for 45 €. On this last, considering the price of the Radar DRS4W, This option could be provided free of charge (*) !
The connection to the AIS, once the iPad is connected to the Wi-Fi of the transponder or the multiplexer, is carried out by entering the IP address and the specific communication port of the device .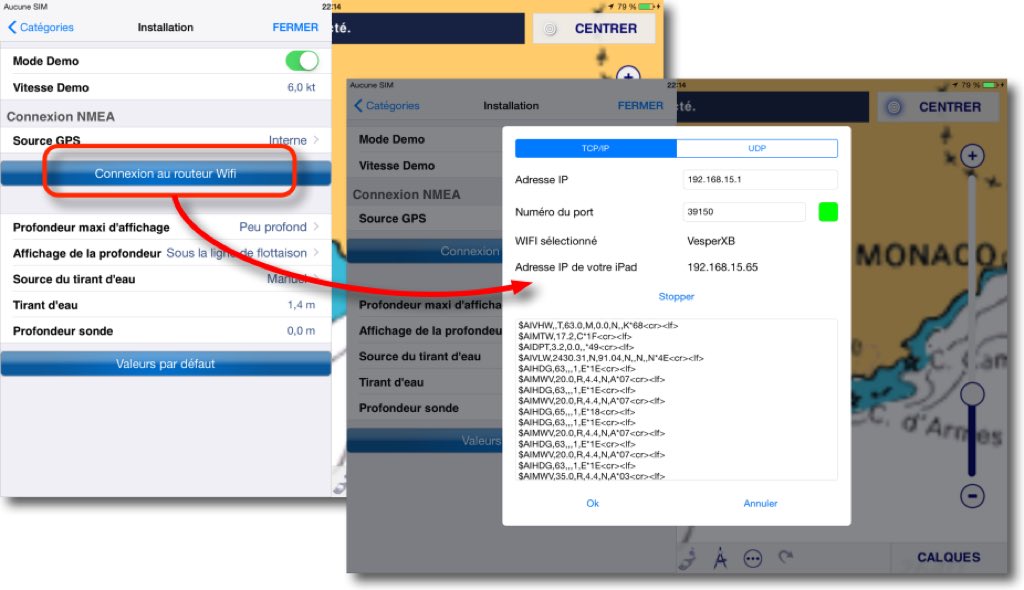 The AIS targets are displayed with differentiated colors (class A or B) and velocity vectors with adjustable duration or distance, with flag of ROT (Rate Of Turn). A tap on a ship icon opens a window with detailed information, as well as the calculations of approach (CPA, TCPA).
About Radar, It will wait before finding screenshots other than those provided by Nobeltec when training indoors to the USA to get an opinion.
Compulsory registration
Little change in the user interface. The toolbar has been moved at the bottom of the screen, the settings menu has been enriched TCP/IP functions and improvements. La grande nouveauté consiste en l'obligation de créer un compte « My TimeZero » à la première ouverture dont on se demande bien à quoi il va servir, but purchases restore in-app (charts and options) that would normally go through iCloud Drive.

I cannot fail in the spring to a little further test as soon as I will ship them on a vessel equipped with an AIS transponder.
—
(*) Let us recall that Furuno is a shareholder in 49% Signet S.A. owner of MaxSea. See my post The stakeholders of electronic charting
—