Updated on 17 May, Navionics Boating presents some modifications, in the presentation and functionality.
First of all only subsist Navionics Boating for iPhone and "Boating HD" » for iPad. The old names have disappeared, happily because confusion was great. Version purchased with built-in charting has the name of the region, for example "Europe HD" for iPad. On the other hand, there is a free version called "Seas and Lakes" which allows to test then buy a chart of the area of choice, and additional options.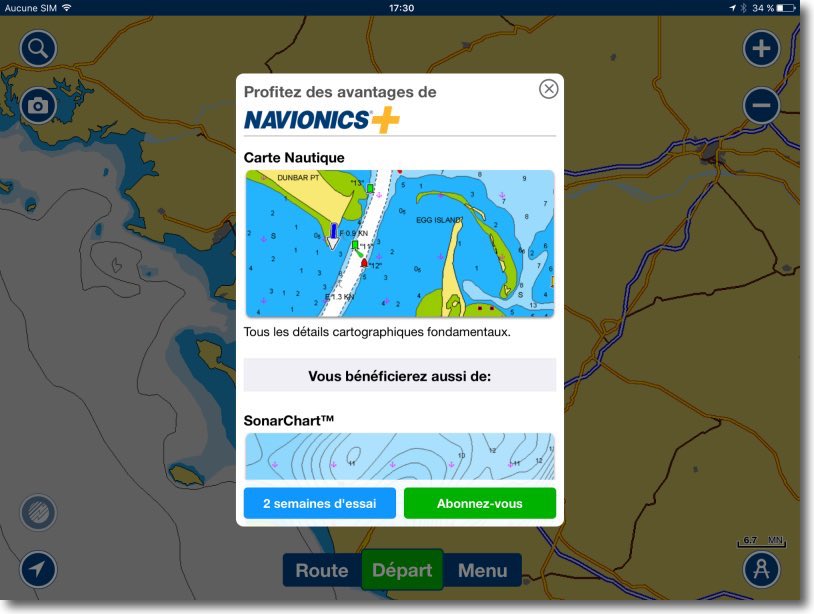 To do this, Navionics offers two-week free trial of the option NavionicsPlus including :
A nautical chart (region to choose)
SonarChart (Community users of Navionics bathymetry)
Community edits (shared community data)
Unlimited updates (for one year)
Autorouting (automatic creation of route berth to berth)
Weather, tide and current displayed on the chart (unspecified origin for the last two)
Advanced Map Option (Advanced chart display management)
Either all of the paid options available. All these options can be purchased separately, or with the pack Navionics+. Chart pricing comes from 50 to 80 € According to the geographical areas, with a majority at 55 €. Beware though, the subscription is to voluntarily renew every year (no automatic renewal).
No function AIS nor TCP/IP protocol support. But the options associated with some manufacturers, such as Raymarine and Navico, to interface with their depth sounders to enable saving of soundings with SonarChart.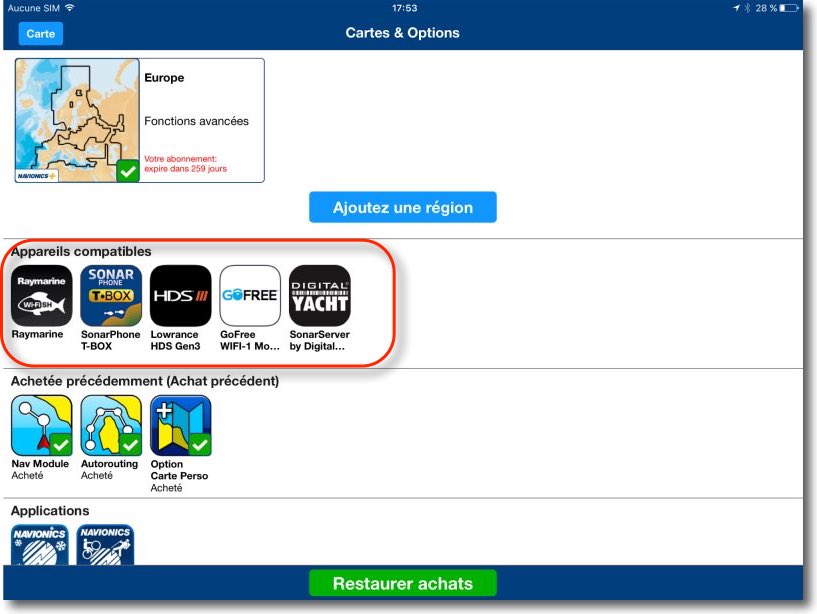 This application, the most sold in the world in its category, address a majority of coastal mariners, with a strong orientation for motor boating and recreational fishing. We can always discuss - and I am not bothered me to do - on the quality of the predictions of currents and tides accessible only through internet, on the weather forecast provided streaming (and optional), on relevance of sharing community and data quality SonarChart, or the versatility trade policy by Navionics, but we cannot deny that it does very well for which it is designed, and it perfectly meets the needs of users that it targets, representing more of 80% the pleasure craft market.
———