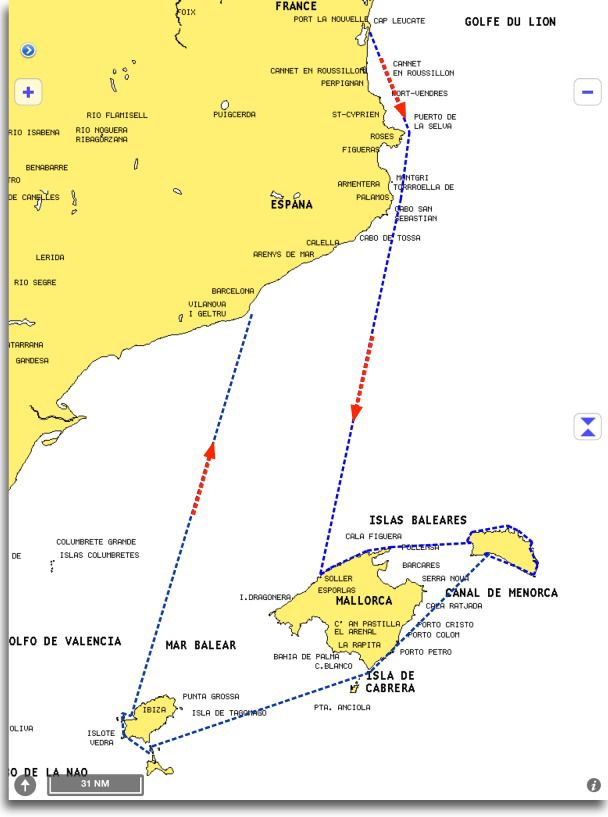 Three weeks and 600 nautical miles of sailing between the mainland and the Balearic Islands have allowed me to test in live some of iPad maritime applications we have.
Warning : it is not about to indulge in a point by point comparison between applications, but rather to identify some key aspects of their use. On the other hand, applications used were up-to-date at the beginning of July. Fast evolving, and updates may have been made in August or early September I did not have. At last, the messaging app iNavX associated with available Navionics cartography from the X-Traverse server for me is the "master-standard" marine applications. iNavX is to date the most comprehensive application in terms of functionality, and Navionics charting (from the X-Traverse server, I specify) closest to the geographical reality observed by many users.
Designs
This is most striking in alternating applications on the same route, sometimes it is the fundamental difference in design and ergonomics. At least, applications incorporate three essential features : create waypoints, create routes of many waypoints, and save the track all along the progress of the boat. They all do that, more or less easily, certainly, but they do. However, two fundamental aspects seem to compare : ergonomics, that is to say, the ease of implementation associated with design, and the quality of the proposed charting. you can see below two diametrically opposed designs between Navionics Marine HD and Nobeltec TimeZero :
In both cases the navigation information provided is the same, a retractable drawer to the left in Navionics Marine HD, a semi-transparent panel to drop from the bottom in TimeZero. However, the first is fixed, the second is fully configurable. The creation of a route in Navionics Marine (subject for purchasing NavModule) is extremely easy. In TimeZero a little less intuitive at first, but once you understand the way to, easy to use.
Nautical information
Usually two kinds of information must be provided by applications : the Navaids and POIs. If navaids are generally available in vector charting applications (iNavX, iSailor, Navionics Marine, BlueChart, Plan2Nav) as extracted from a database associated with the navigation charts, they simply do not exist with the raster charts, that show only what is printed on the scanned chart. For POIs, the prize goes to Navionics Marine HD and Plan2Nav (Jeppesen / CMap) for their rich information database, whose priority data are included in the chart (as harbour master phone number and VHF channel, for example). iNavX, on the other hand, only offers a limited list of information without interest (¹). In other applications it is the desert.
Common use
Monitoring the navigation route used to assess the overall usability of the application. As noted in the first paragraph, designs can be radically different, and in this respect only the tastes and expectations of the user will select. If for me, and a large number of offshore boaters, iNavX is the reference application for the wealth of built-in functions, it is by far not the most user-friendly application or the best designed of market. Yet it is the only one to meet the demands of offshore sailing : choice of charting, interaction with other applications (Weather4D Pro, XGate, Iridium Mail), connection with onboard instruments, satellite phone connection, AIS display, GRIB weather display. This bonus for me on some usability issues, but it will not necessarily be the same for the only coastal navigation which does not necessarily require this plethora of functions.
A big disappointment to discover that Balearic Islands do not include 3D satellite images in TimeZero, while the same TimeZero application in onboard PC (More exactly a Mac Mini running Windows !) shown these images. This removes a lot of interest from the perspective 3D view, especially for landings.
Cartographic quality
In this chapter, I will definitely be dissatisfied, but it wants to be useful. Accustomed as we are, we French boaters, using for decades a formal charting of extreme quality (SHOM), with a permanent update service, we are entitled to have requirements for electronic charting. It is the Maritime Safety. And in this respect there is quite a work to do by publishers. They can clear itself by clauses to protect them from any legal recourse, each user must accept by opening his favorite app, it remains that these "Aids to Navigation" have become, for many boaters, the only source of cartographic information onboard. This is the inevitable course of events. It is unacceptable to see cartographic representations with no detail (TimeZero/MapMedia3), obsolete charts (Garmin / BlueChart (²), non existent marks or buildings several years after construction, and that in the majority of publishers.
Same in the following example, landing at San Antonio, Ibiza. Only Navionics shows real up-to-date markup and existing pontoon in north marina. Others are totally approximate, it is regrettable.
This is marinas frequented by hundreds of boats. But what about the dream anchorages on the north coast of Majorca or Menorca's south coast ? I'll let you judge :
Below Cala Coves. Useless to try to enter with poor visibility or without depth sounder with TimeZero, the south coast of Menorca has no detail (I said that I downloaded all the charts). Navionics in iNavX (July Edition 2013) presents curiously soundings and textual information different than Navionics Marine HD Europe (version 4.7). Again markup is up to date with iNavX / Navionics, consistent with that found.
In conclusion
I remain quite skeptical to the vagueness of some charts. Navionics and Plan2Nav (Jeppesen / CMap), undisputed leaders for chartplotters for over two decades, are the most advanced in this domain. It is only a pity that Navionics does not provide, with the charting available on the X-Traverse server, the same database information in their own applications, since in any case it wins in both markets. iSailor uses very nice Transas charting, but it seriously lacks detail, and the sequence of zoom levels lack of continuity in the data display. The application does not provide setup to delete the light sectors that pollute display some zoom levels, or adjust the display of marks.
The big disappointment is MaxSea TimeZero, more exactly MapMedia raster charting. As I walked around the bay of Hyères, no worries, all details are. But when you move away to the south, even a large port like Barcelona has display shortcomings (Missing lights in the example below :
MaxSea has announced the use of a vector charting soon in a future release. It is hoped. I have already expressed, and I still say that the raster chart is no longer suited to modern computing devices such as tablets, smartphones and smaller laptops. Display inconvenient, file size too big, no database, difficulty update, etc.
I voluntarily dismissed Imray charts because its raster charting for the Mediterranean is terrific poverty. It only has a few major routing charts and few approach details charts. Chart overlays are laborious, very difficult to use application, ergonomics of a rare poverty. Short for me unusable.
About Navionics, regular updates and global coverage make reference publisher. However, the new deal for updating Navionics Marine applications asks me. I will come back in a future post.
—
(¹) Indicating that Navionics Marine HD database is absent from Navionics sold by X-Traverse channel ! Not cool…
(²) San Antonio, Ibiza, last correction 26 April 2009.
—
Related items :
The stakeholders of electronic charting
The difficult choice of electronic charting
—