In coastal navigation, sometimes it is easier to connect to 3G cellular network to get a WiFi connection with an access point to earth. Cellular antennas are more numerous on the coast and on the Islands. But as you follow my recommendations carefully (¹), I have no doubt, you have an iPad WiFi 3 G without a subscription, that is to say without a SIM card, and you are right. So how do ?
If you have one of the new wonders of technology called "smartphone" you might have a function Connection Sharing. Whether you have an iPhone or Android camera system, tethering is possible multiple connection : USB, Bluetooth et WiFi (²). This means that your smartphone is used as a modem for your iPad, which will allow him to access the Internet, retrieve GRIB files, or any other activity if the flow is sufficient 3G.
Login with iPhone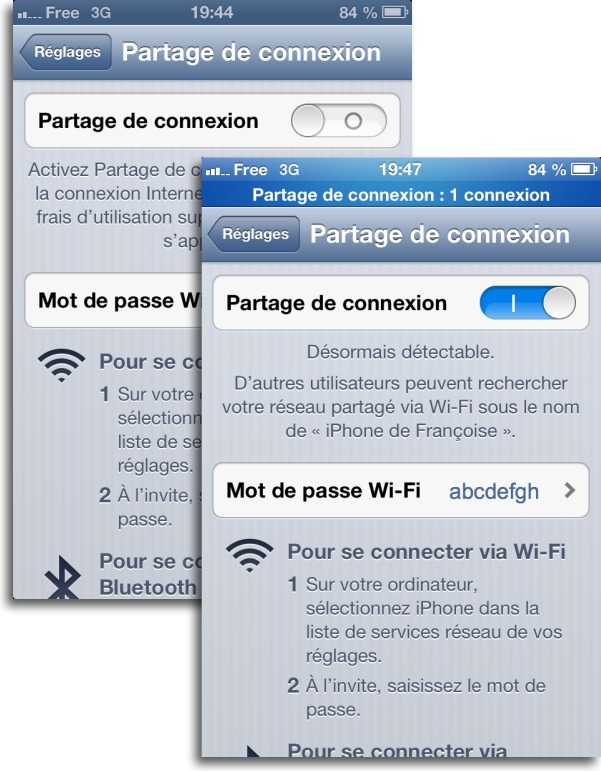 In Settings iPhone there is the function Tethering immediately below the WiFi and Bluetooth options. Simply activate after entering a password to protect the connection. From iPhone 4 and higher, WiFi connection is possible, in addition to Bluetooth and USB. Your iPhone will then be visible in the list of WiFi access points.
Connexion avec appareil Android
With Samsung, HTC ou autre smartphone sous Android, the principle is the same. However, depending on the version of the operating system, way to access the shared connection can be significantly… tortuous. L'exemple ci-dessous est réalisé avec un Samsung SIII sous Android 4.20.
In Settings Wireless & networks, the option Access point and modem selects Mobile Hotspot (WiFi), Modem USB or Modem Bluetooth. Once Mobile AP activated, password is the default (it can not be modified). The smartphone will then be seen in the list of WiFi access points on the iPad.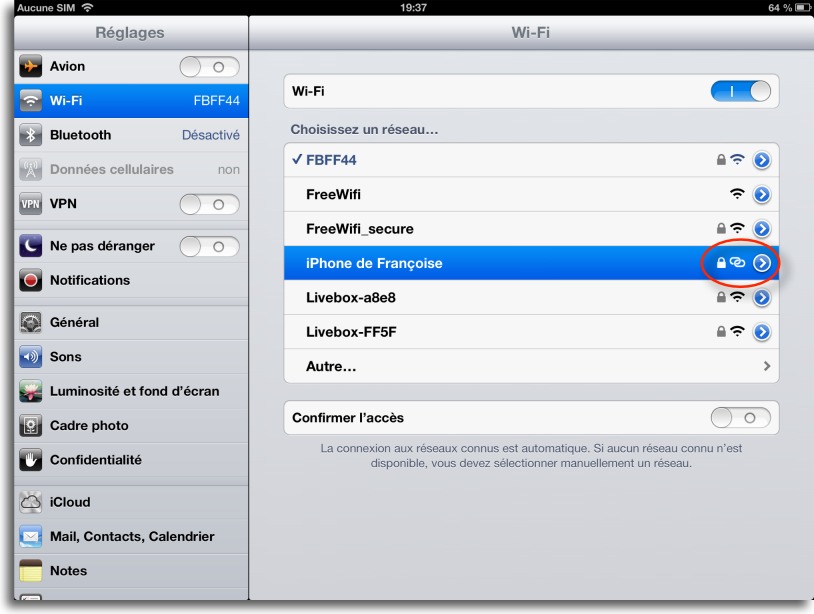 The acronym representing two intertwined circles identifies the shared connection. Several devices can be connected to a single smartphone. But beware, bandwidth is then shared and flow can be slowed even.
Connexion avec routeur 3/4G
In France : Une autre méthode consiste à acheter un petit routeur 3G/4G qui sert de point d'accès WiFi pour tous les appareils à bord. This is the latest must. Domino Orange, Web Trotter SFR (this is the same device), Huawei Bouygues Telecom, All these models have floating packages allow you to surf the internet through an integrated SIM card. Perfect to get the latest GRIB files Weather4D !
[Update 12 rd, January 2015]
A l'étranger : if you navigate away from our borders, the roaming may cost you ! It is better in this case to buy a router 3G / 4G WiFi non-simlocke, as TP-Link M7350 or Huawei E5786 any operator who can accept SIM cards from any. Buy local prepaid SIM DATA refills, it will be much cheaper. The last TP-Link supports up to ten simultaneous WiFi connections !
—
(¹) Read the entry iPad , GPS and 3G network subscription
(²) Warning, some older models, like the iPhone 3GS, do not allow the WiFi mode.
—