For the first time since 5 years I'm not moving to the Paris Nautic boat show. And for the first time I do so not "stuck" ten hours per day on a stand of 9 m². And so for the first time I take the time to be interested - remotely, without jostling, without air conditioning, without Paris pollution - to products having a relationship with my field of investigation and which have caught my attention.
Some relate to security, other useful accessories, all have to do with mobile devices, smartphones or tablets, and some are truly innovative.
Security
In honor where honor, je commencerai par une innovation française qui vient de recevoir le prix DAME Design Awards (¹) 2016 at the last METS TRADE in Amsterdam, and which in addition is designed by Securitag SAS in Nantes : the Sea Tags strap.
• Sea Tags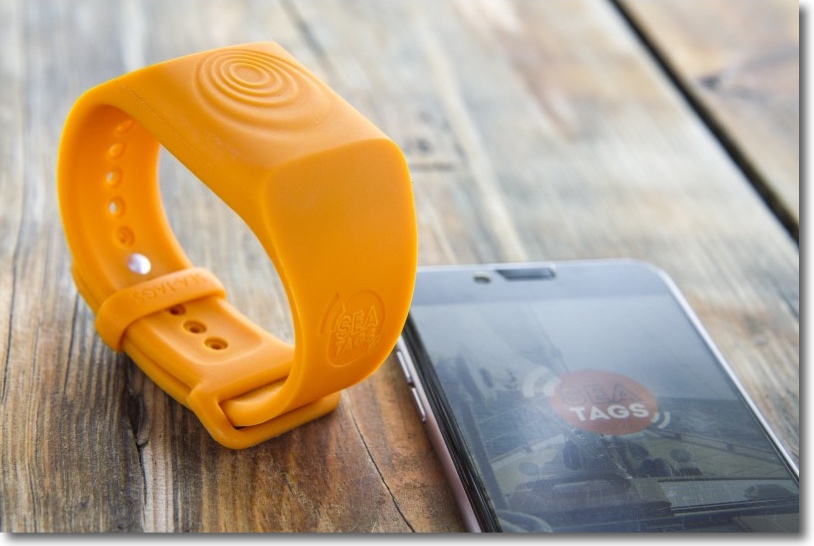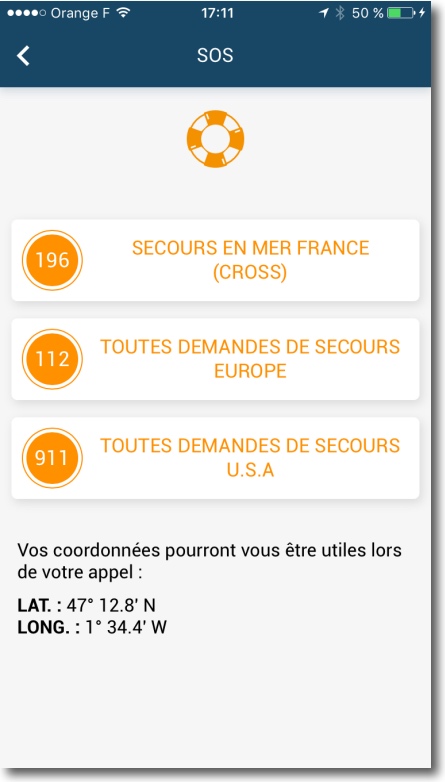 The Sea Tags est un système d'alerte homme à la mer, presented in the form of a watch strap which communicate in Bluetooth with a specific application on smartphone (iOS, Android). The Sea Tags emit a continuous signal, with a range up to 100 meters and at a frequency of 4 times per second, picked up by an application installed on one (or more) smartphone. If the signal is interrupted, by immersion or by exceeding the distance limit, the application triggers an alarm and records the instant GPS position at the time of the incident.
We can set the application to an SMS to be sent to one or more phone numbers preset with the position of the vessel at the time of the incident. We can also call for help by a SOS button in the application to display a quick access to the main distress call numbers. In case of Man Over Board, the Sea Tags application displays on a map the position of man over board, the position in real time of the boat and it refreshes constantly heading and distance to get it back.
If a solitary Navigator falls over board, the phone remained on board will send a message with the position of the vessel at the time of the fall. The person on the ground receiving the SMS can contact the rescue and provide them with the GPS position of the man over board.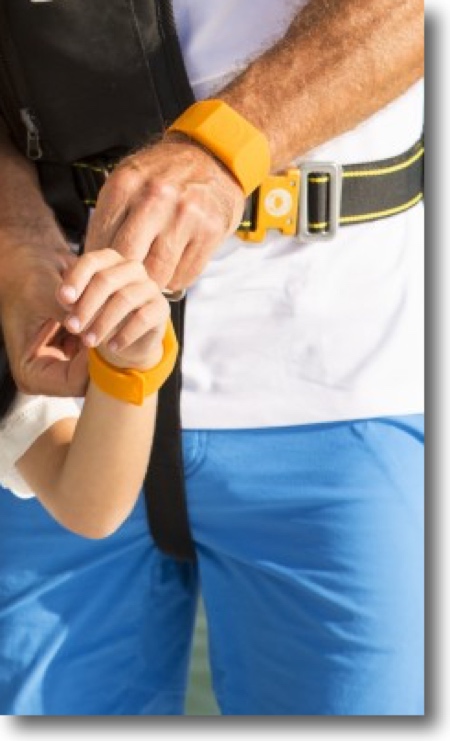 The strap weighs 13 grams and it is totally waterproof IP67 (²). It is provided with a 3 Volts battery giving autonomy up to 600 hours in continuous emission. However, some restrictions are made by designers :
Boat size limited to 15 meters (to take into account limitations of propagation of the Bluetooth from the outside to the inside of the boat).
Not compatible with carbon or metal boats.
Even if the application is scheduled to run in the background or in standby, It is better to keep the app active and the smartphone powered on the 12V. onboard power.
Delivery of SMS Messages cannot be done unless a cellular connection is maintained.
The Sea Tags therefore primarily target crew boaters who will be able to move instantly to a crew member fell overboard, in coastal as offshore sailing. Other functions related to the cellular network will be effective only close to the shore, which already represents a large majority of both sailors and boaters.
The price is set at 79 € TTC for one strap, decreasing thereafter 3 or 5 units. Taking into account the fact that the system is completely self-contained (no need for navigational instrument as with NKE) It remains today the security "man overboard" most affordable, for a lower cost than a good inflatable lifejacket, for example.
• TiFiz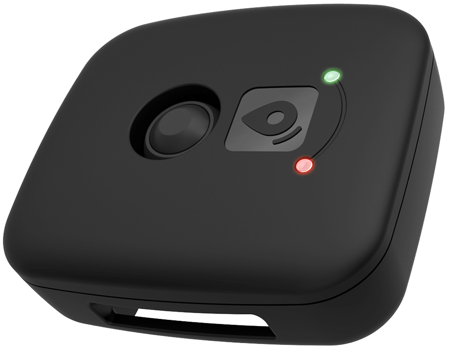 A purpose and a radically different principle, TiFiz is a GPS tracker perfectly adapted to nautical seaside activities, even short coastal navigation. TiFiz is a product designed by the Breton company Ticatag SAS based in Lannion, specializing in the Internet of things (you know, IoT, the Internet of Things, the beacons, etc…).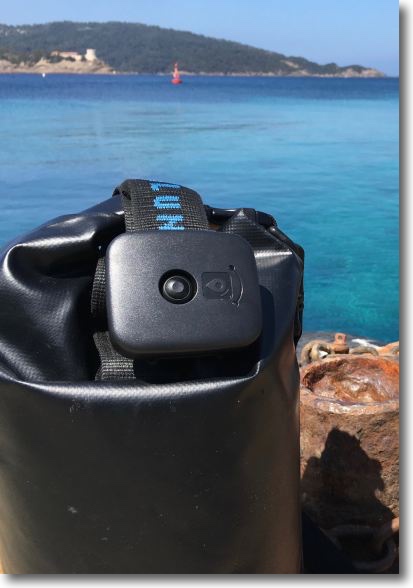 TiFiz works with the network SIGFOX, a low-band network designed in France for the internet of things, which allows communications in all France and part of Europe. It's a small and completely waterproof box, with a battery life of 6 months up to 1 year according to the use. It sends its GPS location to the network, who relayed it on a dedicated application on all mobile devices and the web. It allows to follow a loved one at sea for a stand-alone nautical activity, diving, inshore fishing, Sea kayaking, etc. However, the maximum rate allowed of sending the location being only one time each ten minute to SIGFOX network, it will be difficult to follow a fast craft as jet-ski, kitesurf, windsurf or other.
A major advantage of this tag is to send an alert in case of emergency (drifting in the wind, inability to return to the beach, weakness, …) by a single button to press : a long press (5 to 10 seconds) sends an SMS to a pre-defined call number, with a GPS link that displays the position of the tag on Google Maps. We can set up the phone number of the person to send an alert.
If the coverage of SIGFOX network seems to be excellent for both France and neighbouring countries, offshore limits remain difficult to estimate. It can be assumed that a shore line 15 to 20 nautical miles should be covered, certainly more than cellular 3G/4G coverage .
The Tifiz is sold 99 € inc VAT, plus a subscription to the SIGFOX network of 3,60 € inc VAT / months, or by prepaid cards or refills online : 20 € inc VAT (3 months), 30 € inc VAT (6 months) or 50 € inc VAT (12 months). The TiFiz application, for free, is available in 2 versions : iOS and Android. A web interface is also available by access codes.
This product is so essentially intended for use of coastal geolocation to secure nearby nautical activities, and reassure loved ones remained ashore.
NOTE
I'm surprised not to find new individual tags based on AIS, other than those already present for several years with redhibitory prices – from 250 up more to 600 € /unit – in order to equip a whole boat. The AIS being the more reliable at sea to return to a transceiver system, it is the more widespread for its low cost, and managed today by the majority of the Multi-Functional Displays and the best applications on our mobile devices. I am sure that a device of the same format as the two products above would be able to integrate an AIS transceiver coupled to a GPS receiver with a range of several tens of hours.
Accessories
Protective cases iPad Case are no longer to present. The second generation called "aiShell " (unpronounceable word meaning andres industries shell, what imagination these Germans !) protects the recent iPad Air, Air2 and Pro 9.7″. My partner and friend Dominique Gauthier – iTabNav.fr – presents two news :
The highly anticipated aiShell Pro for the large iPad Pro 13″, Finally available.
The anti-reflective visor with 3 positions for aiShell cases.
This last, designed by iTabNav, following a first version for the first iPad Case generation (iPad 1 to 4). Redesigned and improved, his clips on which comes to set the sun visor allow three positions : 90 °, 45° and flat to protect the screen. A robust snap ring to secure the sun visor in case of strong wind, or at rest.
This exclusive iTabNav product is sold on promotion 49 € TTC during Nautic 2016.
About the power of our beautiful tablets, two new accessories are available :
•
X MOOV-SOL12
This new foldable solar charger, waterproof and shockproof, now includes a built-in battery. It is exclusively used to charge its internal buffer battery, which can then be used to charge any USB device. A little less powerful than its big brother (12 Watt instead of 18 Watt), its high-performance solar cells can effectively capture light rays even in adverse conditions (misdirection of the Panel, overcast weather) to recharge the internal battery. The Panel is provided with an adjustable crutch to optimize its orientation, and still its four fixing eyelets.

The internal battery 10.000 mAh can recharge 4 times a smartphone or 1,5 time such an iPad Air tablet. It has a switch on/off, a gauge to 4 levels, and two USB Sockets.
It is sold Nautic promo price 2016 109 € inc VAT.
• Waterproof 2-USB Scanstrut plug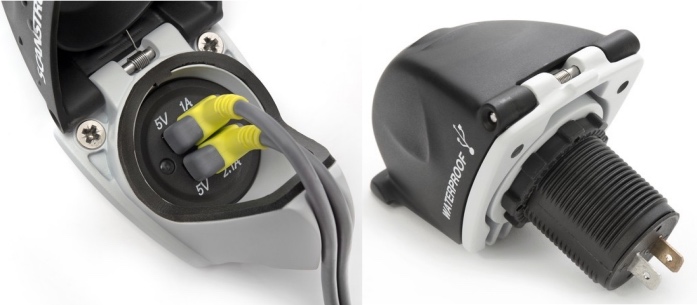 This robust waterproof housing, powered from 6 to 32V, delivers 5V output and allows you to connect 2 USB Sockets : 1A to charge smartphones, 2,1A for tablets. Ideal for installing on a Zodiac console, a wheel console, or any location subject to the spray.
Through-wall mounting, with a barrel of standard dimensions (30mm drilling – thickness 25mm maxi) maintained by locknut. Two additional screws come compress a seal preventing rotation of the plug. Waterproofing is ensured by the opening hood which presses the cables in a channel whose shape prevents the rise of water. The whole remains watertight even in the absence of cable.
An excellent finish, like all Scanstrut products, It is sold 35 €.
———
(¹) DEsign Awards Marine Equipment is the most prestigious annual international competition for the creation of new equipment and nautical accessories for boating .
(²) Reminder on IP protection indicesxx :
First digit : protection against solid bodies (dust, sand)
5 = Protected against dust
6 = Totally waterproof dust.
Second digit : protection against liquids
7 = Protection against the effects of immersion (up to 1 meters). The penetration of water in harmful quantities is not possible when the equipment is immersed in water under defined conditions.
8 = Protection against the effects of immersion extended beyond 1 meters. Equipment tightly closed, for some hardware water can penetrate without producing damage.
———