Two months after out for iPhone, Weather4D (¹), by surprising Olivier Bouyssou, comes with a fully optimized version for iPad, with the modest release number 1.1.
This unique version iPhone / iPad is a simple free upgrade for the lucky purchasers of version 1.0.
And yet, what work it took to adjust and optimize the 3D application, both screens and memory capabilities of iPhone 3 and 4 than those of the iPad 1 and 2, known to be very different !
We discover many new features in this version :

iPhone and iPad :
Displaying pression contours, with spacing allows to be set (with 1 to 10 mb)
Pressure display in 3D
Viewing angle adjustable with double-taps up and down (arrows iPad)
Variable scroll by increments from 3 hours. to 12 h. Double-taps left and right (arrows iPad)
Display calendar by tapping on the clock, a tap on the current date back to current time
Display pictograms and cumulative wind vectors
Setting the animation speed, with 25% to 400%, lateral sliding a finger under the clock (Weather Mode)
AutoUpdate GRIB files after changing settings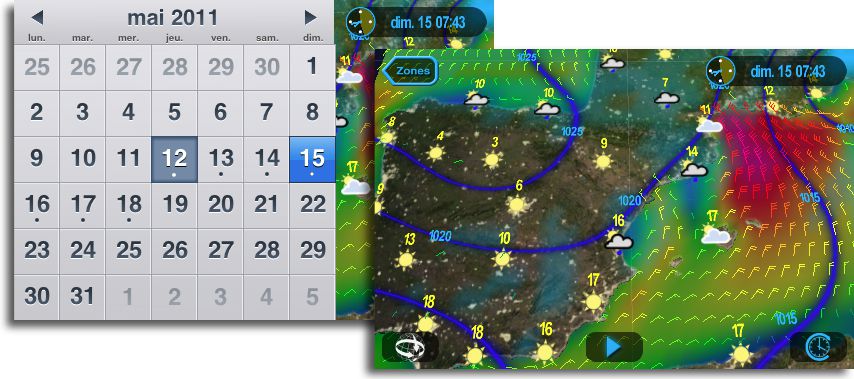 iPad :
Banner tools to standard view, slider with time and permanent access to the calendar, settings and help, including being animated
Full-screen mode with clock and same buttons as iPhone view
Viewing high-resolution
Firmly supported by a team of hard testers that he was not allowed respite, Oliver offers us an application that's always a good head start on competing applications. More over, even before its release, this work was already being hailed by the press Boating (²).
But as he is not guy to be satisfied with his result, he has already working to a PRO version and some ideas of additional functions for the current version. No rest for the artist !
—
(¹) Weather4D plays GRIB weather data for iPhone
(²) Voiles & Voiliers : Display total weather