Weather4D 1.2 will be introduced by the designer, Olivier Bouyssou, at Grand Pavois boat show in La Rochelle from 15 until 17 September at iPadNav.fr.
This new version 1.2, will be available as update iTunes App Store at this time, brings many improvements and new.
Improvements
In addition to a diet that allows the application to be downloaded in 3G network (Help will be downloaded then the first reading), see the iPhone version ergonomics changed to more quickly access settings for each zone and the general settings of the application. Adding radio buttons Params and Settings en mode « Sélection d'affichage » permet d'accéder à gauche et à droite de l'écran à des panneaux coulissants pour ces réglages (portrait mode).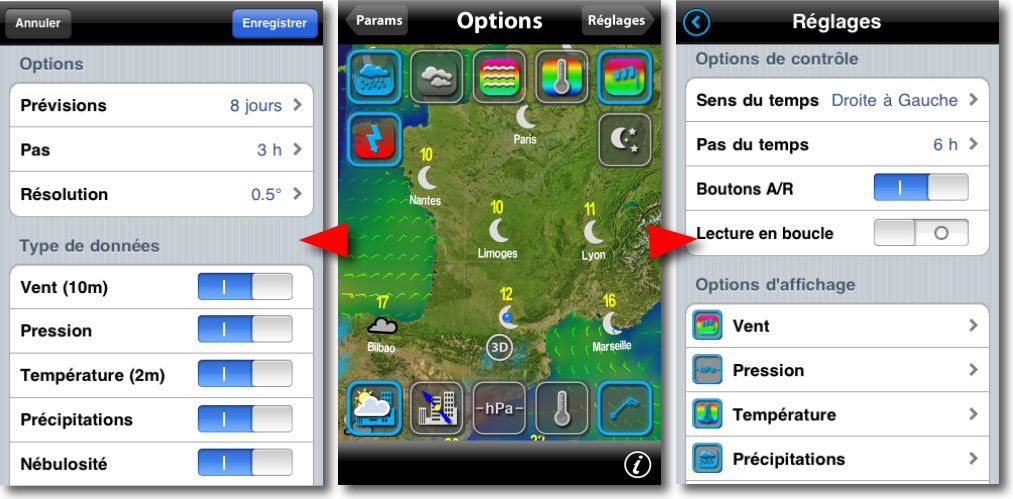 The Help becoming available with [i] information button.
Also, can now choose from general settings to show or hide the status bar of the iPhone.
News
Two waves forecasting models are now available, WW3 GLOBAL and WW3 WITH from FNMOC (

*

)
CAPE : new data for weather forecasting storms (I will return to that in a dedicated post).
The display options are completely individualized for each parameter, and we see the widespread choice of data display gradient or isoareas for easier reading.
Hold down the screen (iPhone) or a specific button (iPad ) can display a detailed data popup for each grid point passing under a 'target' icon. The target is positioned at the location of the tap. It can move with a sensitive area large enough not to have to have my finger on it. It makes it disappear with a long tap on the target.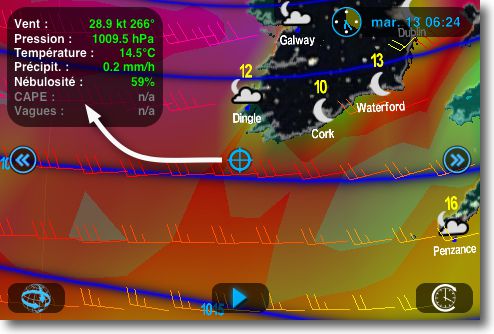 Here is an overview of hurricane paths Katia and Tropical Storm Maria Model GFS 0.5 ° associated with the wave model WW3 Global 1.0 ° :
—-
(*) See the entry "Prediction Models" in the Glossary for explanations
—-