It moves on the part of publishers for iOS applications. Updates to succeed and the new features are. Quick tour of the new virtual, because I have not tested anything yet at sea. It will come, do not doubt !
Navionics Marine: Europe
After Nav Module, appeared there nearly a year, and I was made to echo in September (¹), Navionics has added two new options to pay its application : Advanced Map Option and Autorouting, the same rate as the first, slightly less 5 € each. By the way, it should be noted that the Europe has lost the islands of the Atlantic : Canaria, Madère a Açores, for reasons of royalties river. It is the application Marine: Asia&Africa who inherits.
Advanced Map Option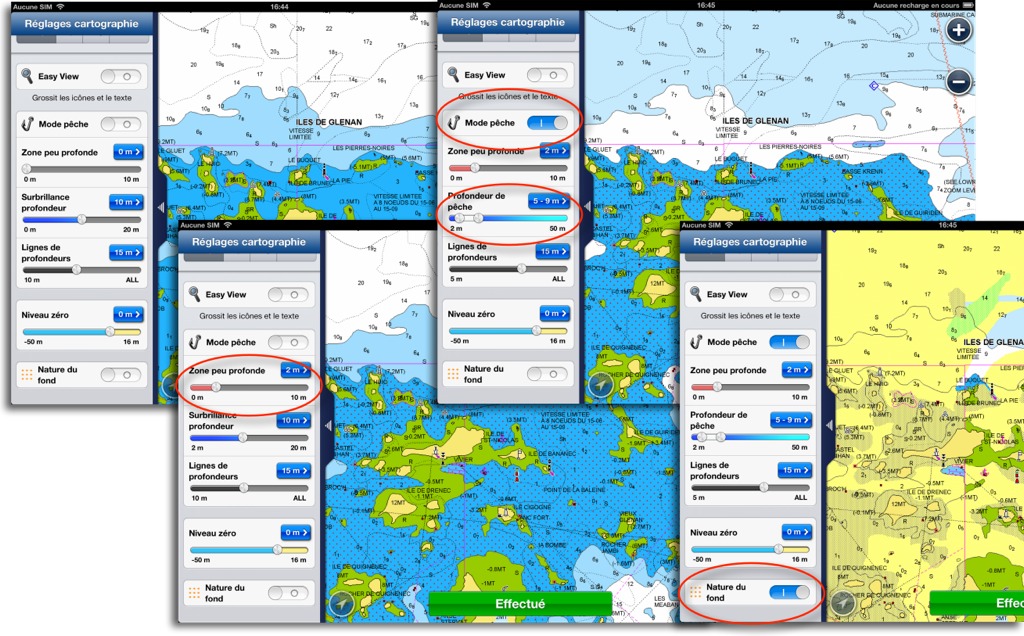 Allows you to customize chart display according to user's needs. Viewing a low depth area, a fishing area between two depth levels, display the nature of the ground (detailed text information available through a tap on an area), setting chart datum (?). Boaters to judge the usefulness of these options seem rather in coastal navigation, fishing and small coastal. This still represents the vast majority of users of this application.
Autorouting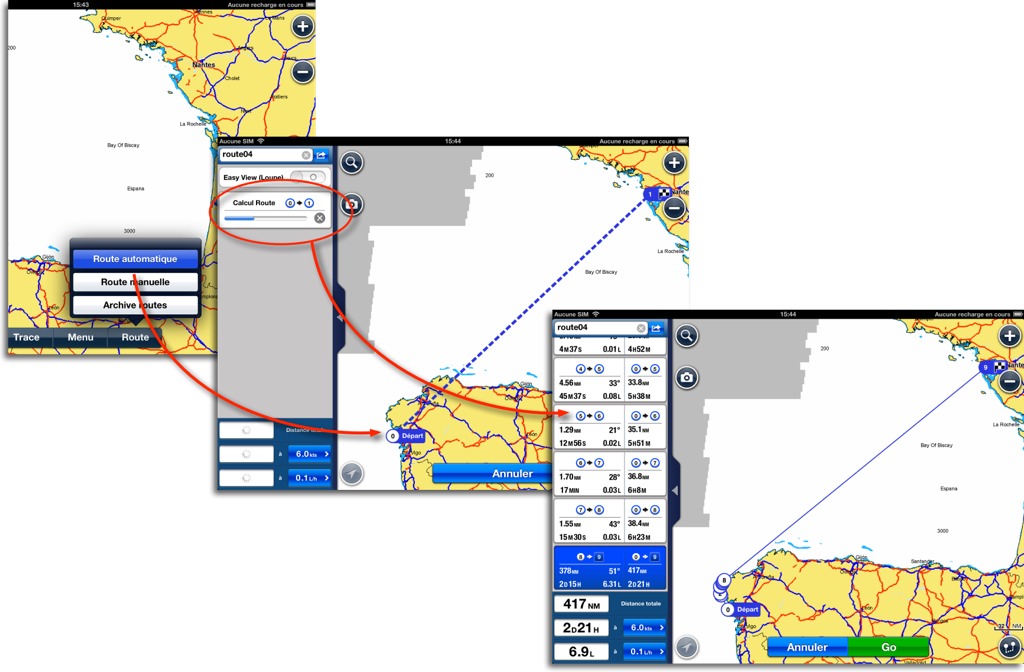 A clever option to automatically calculate the points of passage bypassing a point or obstruction between the starting point and an ending point. Warning, this is not routing. Simply bypass the dangers within the parameters of the ship provided in the application settings : draft, vertical clearance and beam. The result should be used with caution :
iSailor
Support for AIS
Since the version 1.5.2, iSailor supports NMEA data from an AIS receiver or transponder via the TCP / IP protocol. As with iNavX, just have to connect the device to a wireless multiplexer or AIS provided with a wireless transmission (²) in order to display targets on the chart, location and course of the vessel (COG/SOG) provided by a transponder (Class B only). This option is sold 9 € in-app purchase.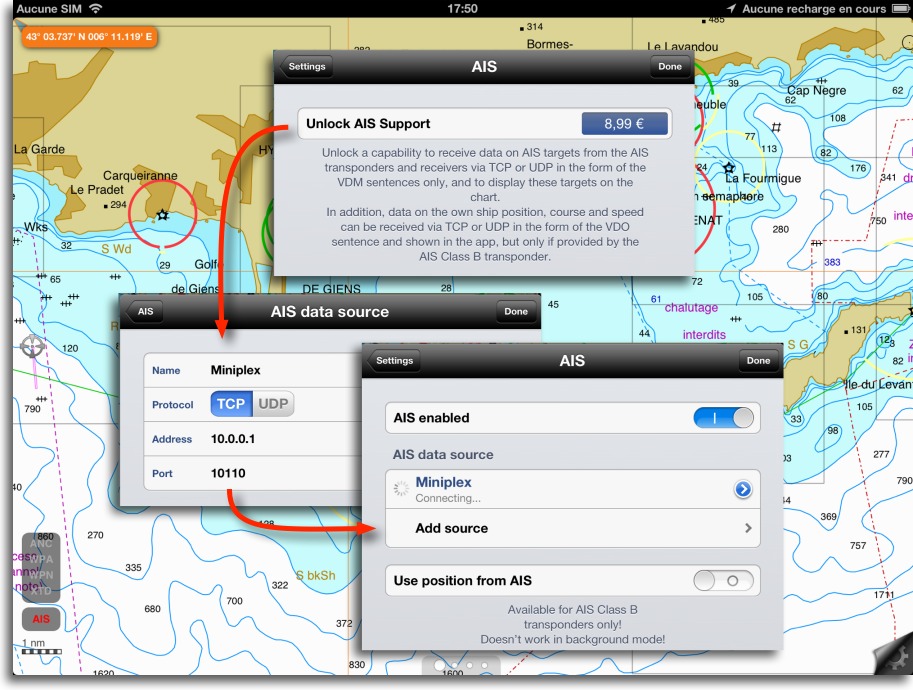 I will test this function the next weekend in Hyeres on Lagoon 38 and I will add a screenshot to this post. A new "Tips" setting has been added to explain some pictures tips handling this application. This is welcome because user help was really missing.
Imray charts
The publisher has also added support for NMEA, but through a paid application designer (Tucabo) : Instruments boat sold 6 €. This application allows viewing on Imray charts NMEA and AIS targets received by a device connected via WiFi (Multiplexer or other).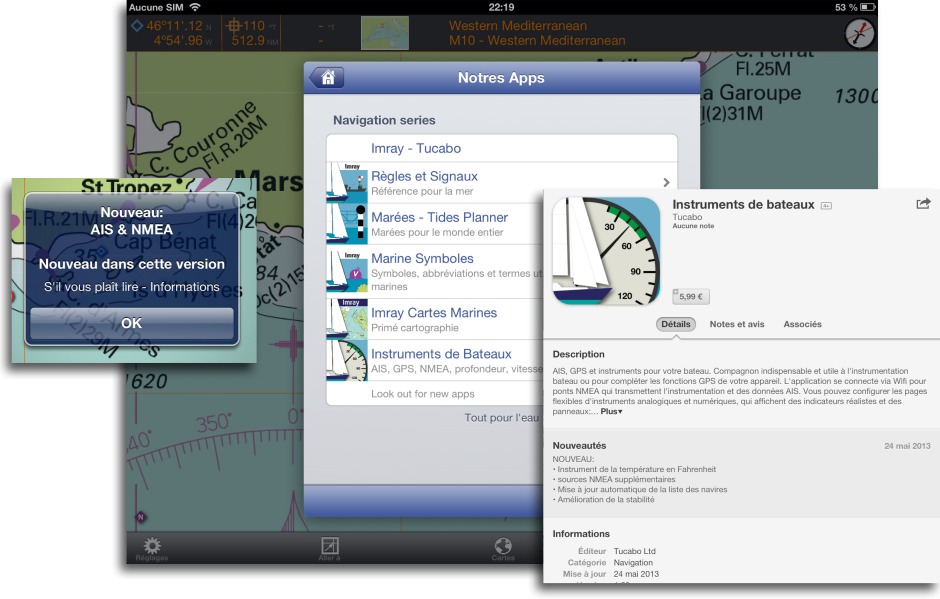 BlueChart
Garmin has made several improvements to its application. But it goes especially in the direction of integration with its traditional product lines.
Premium Weather
In addition to the display of wind data, fourni than standard, Weather the Premium option displays the latest satellite images of clouds and precipitation radar maps. For 3,59 €, I preferred the GRIB data pressure and precipitation, much more useful to wind added.
Wireless transfer
The application can communicate via Bluetooth and WiFi. Mainly with the WiFi access point sold by Garmin to exchange waypoints, routes and tracks with its ranges of tracer. The last version 1.3 supports the GPSMAP series 8000 and the new Quatix watch designed by brand. If you have not heard of Quatix, is that you get a trip in Patagonia ! If the product keeps its promises, This will undoubtedly be the next addiction of bo-bos sailors who roam our pontoons. And for once, ce n'est pas Apple qui l'a faite 😉
—
(¹) The news of the season
(²) See notes on multiplexers and AIS devices
(?) I really question this function recalculates all probes, which may involve certain risks to safety.
—