The least I can say, is that the news are not rushing. After the frenzy of announcements 2013, developers seem to have stalled. It is likely that multiple apps navigation should not favor their profitability, and the financial return on investment in development time and maintenance must not be achieved by all. Navionics remains the undisputed leader. In creating its new "Boating" formula supplement and / or replace "Marine" (¹) it probably boost sales began to out of steam. iNavX independent application remains the best-selling in the U.S., and the rest of the world through combination with Navionics cartography, particularly in France through… the strong promotion in which I contribute. Its developer multiplies very regular updates, which assures proper positioning on the AppStore and user satisfaction, despite the questionable ergonomics certain functions.
Like the application iNavX, designed by a "lone developer", SEAiq (³) represents a special case by the wealth of features offered as standard, by the many charting formats supported (whose CM93), despite a more refined interface and some slow display. This application can only appeal to professionals and experienced sailors who attach more importance to the technical than the aesthetic.
Behind the first two applications mentioned, come… all other. I am afraid that some publishers hardly sell a few dozen copies per month, and other much less. The example of French MaxSea is symptomatic : announced with a lot of press in the spring 2013, the messaging app Time Zero (²) has not been updated since November 2013, while many functions were envisaged from the outset. Apart from Navionics, charting editor who took commercial advantage to invest all sectors of use (chartplotters, computers, tablets, smartphones), other publishers such as C-Map, Garmin, Imray charts, offer only incomplete applications, more than questionable ergonomics despite some tips, without other apparent that will be present on the tablets.
Original ideas is yet in many of these applications, the clever treatment of certain functions, or openness to communication for wireless integration with onboard instruments. But except iNavX that, from the beginning, has fully open its application to all communication devices appearing on the market (multiplexers, AIS, etc) incorporating a TCP / IP interface and support for NMEA0183 and NMEA2000 data, others have implemented these functions gradually, partially, and most often included paying options (in-app). It is , among others, case of iSailor (⁴) which presents an update offering such option.
iSailor 1.6.2
iSailor now multilingual : English, Spanish, German, Russian, and even Korean (I did not know there was a market for yachting in Korea, those gaps !). We soon hope to French !
New in-app paid options :
NMEA GPS : data support an external NMEA GPS with WiFi.
NMEA Compass & ROT : support an external NMEA Compass and Rate-Of-Turn in WiFi.
AIS Ship Contours : display AIS targets proportionally large scale size.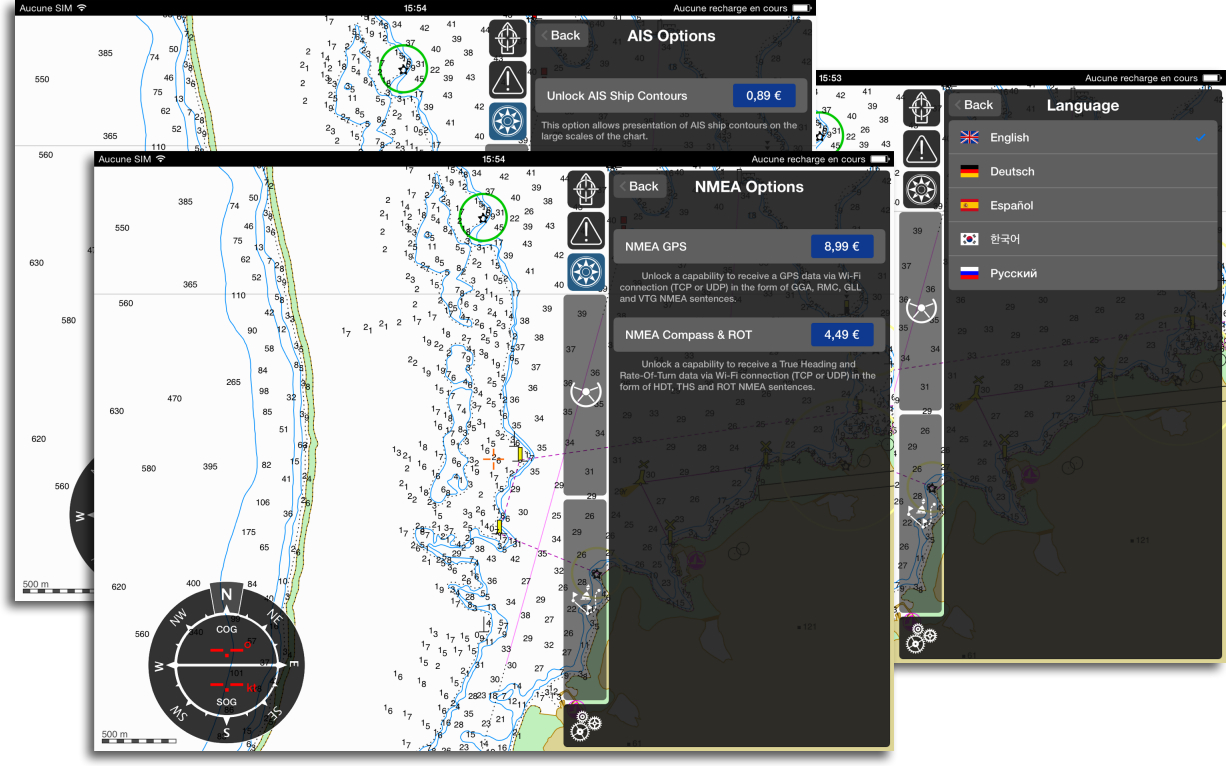 World charting coverage :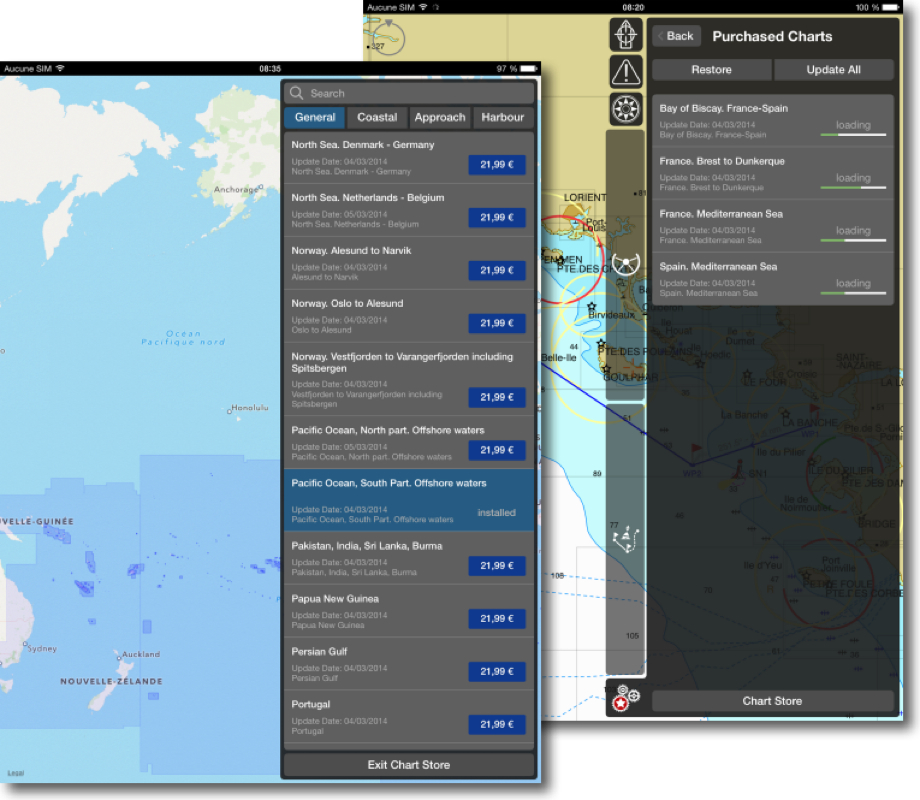 Beautiful vector charts Transas TX-97 now covers the entire globe, including inland lakes and waterways of Europe and USA, with a division into many cells at an average price of 22 €. We regret only display data in successive steps where we see disappear and reappear textual information according to levels of zoom. This issue has not yet been fixed.
iSailor and social networks :
Direct access to the Facebook page iSailor.
Sharing cursor position and user objects via Facebook, Twitter link, iMessenger, Email.
A picture can be attached to any user object.
User objects with pictures can be exported to Google Earth format KMZ.
Many other improvements have come to implement this new release, you will find the list in the AppStore.
SEAiq 1.3.5
The development of AIS identification system generalizes in navigation applications, and also the collaboration servers as Marine Traffic, SiiTech or also AIS HUB.
AIS Sharing :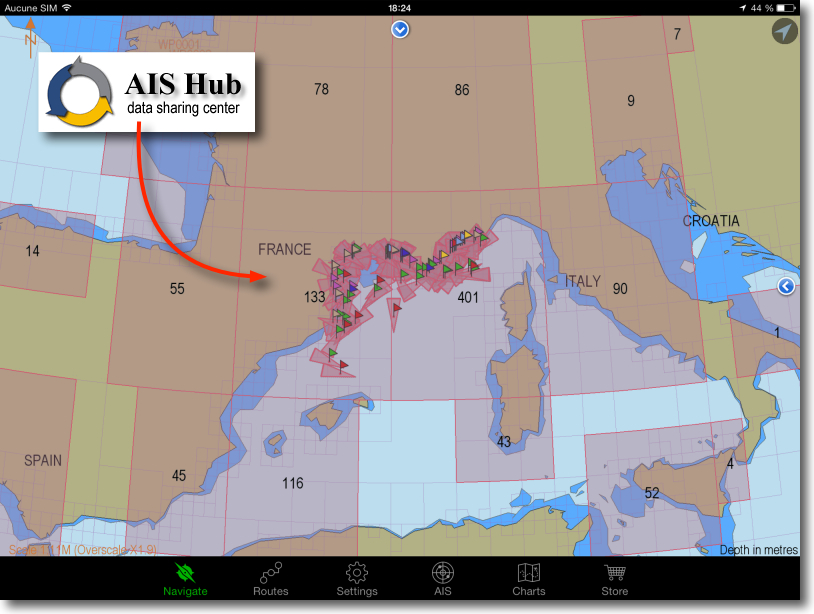 SEAiq now allows receiving and sharing AIS internet with the server AIS HUB. INavX as proposed with the server SiiTech (⁵), AIS Sharing feature allows you to receive AIS targets around the world and displayed on the chart.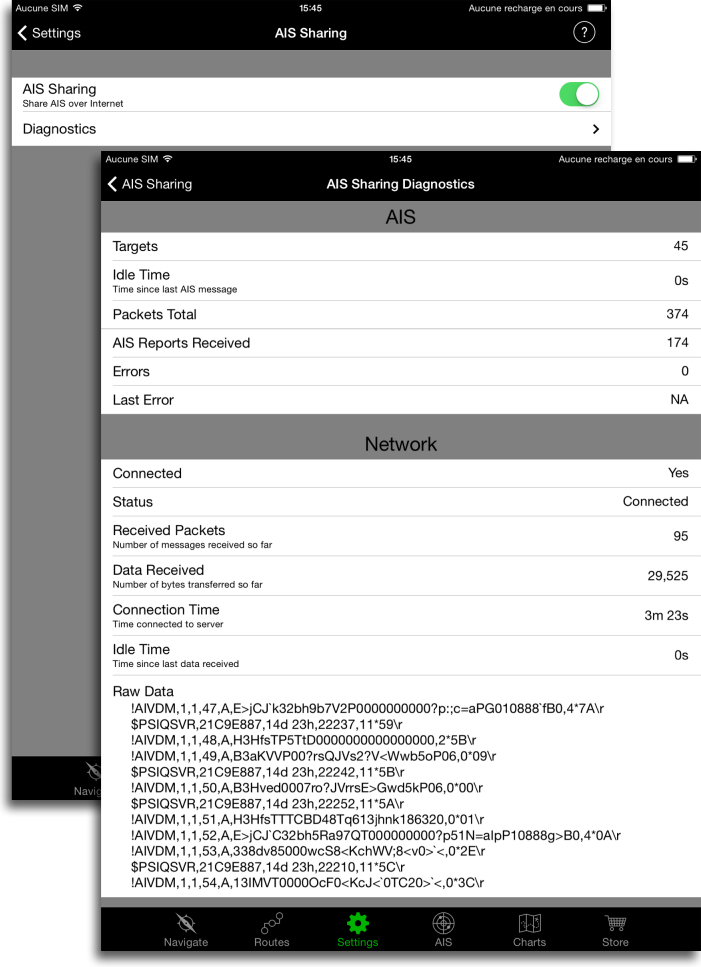 In addition, users using sharing AIS while connected their own AIS receiver via WiFi will share their data rate with other users with SEAiq. If there are active users with SEAiq in the area, they get then access to their feeds. This can work correctly in many cases but, of course, must be aware that source of feedyou are looking at can move out of range or be turned off at any time. The use of SEAiq manual provides detailed instructions for receiving data with your device via 3G/4G cellular network while staying connected via WiFi instruments.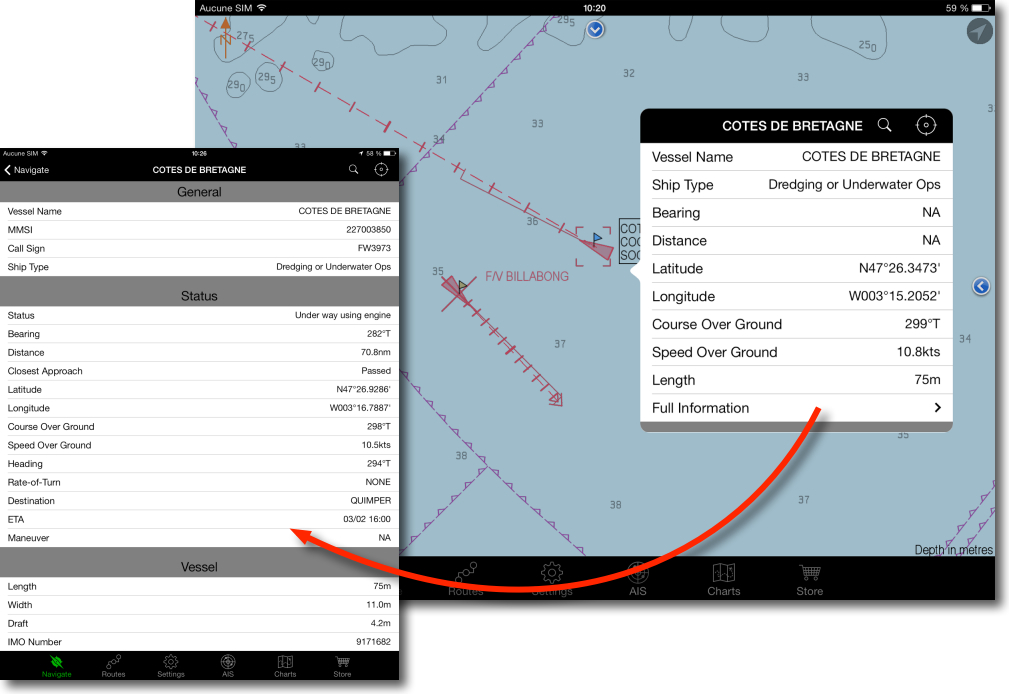 We thereby obtain the same information with an AIS receiver. But beware, however : these data passing through the internet can have a lag in receiving. The information is not as instantaneous with the own ship AIS receiver.
—
(¹) Navionics Boating : Italian at the top of business
(²) MaxSea TimeZero on iPad
(³) SEAiq professional navigation on iPad
(⁴) Articles iSailor
(⁵) iNavX and SiiTech AIS server
—