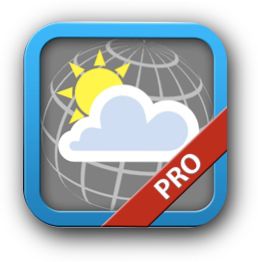 After several months of intensive development and testing, under the conditions mentioned in a previous post, Olivier Bouyssou propose to the date of Grand Pavois his latest release of Weather4D PRO 1.3.0. No additional cost, the routing module simply be added with the update !
Career as a software developer serving the technical engineering combined with a solid mathematical background (¹) allowed him to develop routing algorithms which have nothing to envy to the market leaders (²). Added to an interface that is unanimously, this new advanced feature that will appeal to both racers and cruisers, want to optimize their trips in the best conditions of safety and comfort. The new features will :
Routing :
Routing isochronous mixed (sail and motor).
Setting a percentage efficiency of polar.
Management of polar combined with multiple sails sets.
Refreshment of a route from actual location.
Importation of polar (CSV files) by the "Open in… ".
Export route calculated by mail and "Open in… ".
Conversion of the calculated route in route "normal" (export to iNavX).
GRIB files :
Request for fine grids files WRF by email (email, XGate, Iridium Mail) as for files GFS.
Implementation routing requires to combine two main information : a (or more) Polar speed and weather forecast covering the estimated duration of the predicted course.
Polar speed
Usually provided by architects for cruise ships in recent years, they are only from numerical calculations related to standard plans of hull and sail. They can be used by assigning an efficiency percentage reduced or increased depending on the sea state, sail set used, the helmsman (experienced, beginner or autopilot), etc.
Establish a polar diagram in real life, as is done for racing boats, is a long and tedious empirical work that requires rigor (course followed, sea ​​state, sail trim, aso.) beyond the reach of all boaters. However, more accurate polar and more routing close to reality.
In all cases the polar entered on a spreadsheet (Excel, Numbers or other) and saved in CSV format (³). Just send it by email and retrieve it on the iPad / iPhone by pressing the attached file and the " Open with… Weather4D », or to transfer it to an application as Files Connect. The table must be simple type with two entries. In columns wind speeds, increments 5 or 10 knots, beginning with a column zero knot. In rows boat wind angles relative to the apparent wind, from 0° up to 180°, increments 5, 10 or 15° according to the data available, beginning with a row zero degrees. The starting row/column cell must contain the acronym "TWA" ", a dot as decimal, a comma or a semicolon as field separator.
Creating the optimized route
After creating a weather forecast area, then made a request GRIB file for a period long enough to cover the supposed duration of the course, must import a route consisting of successive waypoints GPX or KML (³) from iNavX or any other navigation application. Once selected prediction, recorded route is chosen and select the route settings :
In this example, the imported route is called BDX 50, the sailing speed below which the motor is a direct route is 5 knots, D405 is the polar (Dufour 405), you can change route color and efficiency percentage. Once the parameters are entered, select "Calculate" button. The application starts the creation of isochronous which ends the display of the optimized route. Blue sections sailing, red sections to the engine (5 knots). We can compare the progression optimized at every point of forecasting, by scrolling, with the direct reference route.
The routing module also allows to combine several "sail sets" for a boat, by combining several polar. In example below, IMOCA 60′ a set of "GV Genoa" and "GV Light Spi".
The calculation, without use of the engine (speed = 0 knots), allows you to view the route sections with Genoa and those with light Spinnaker with editable colors, always compared to the direct reference route.
For better readability of the weather data, you can choose not to display the isochronous :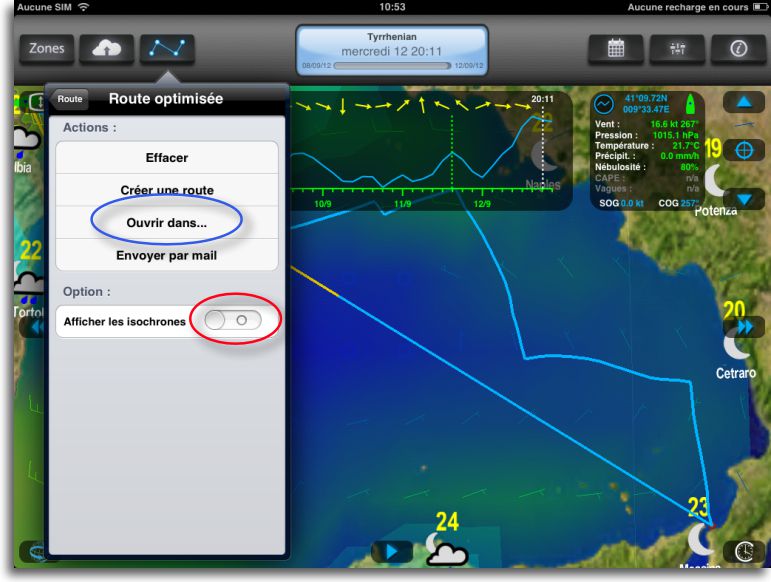 In addition you can choose at any time of the journey current positon as start waypoint in the route. In this case, route is refreshed in real time and you must choose the next waypoint. Change to the next waypoint is automatically passing the waypoint (circle 500 meters). Routing can then be re-calculated from the current position.
At last, the optimized route may be transferred to an application like iNavX to activate as route to go. Use " Open with… ". Monitoring the position of the boat, with Weather4D PRO as with iNavX, will check the progress in comparison to the routing, in order to, in case of track error, start a new calculation with updated data (weather forecast, efficiency percentage of the polar).
Comparative
A comparison between routing calculations Weather4D PRO and routing module MaxSea Time Zero, to the same data (polar, GRIB and routes), shows a similarity routing strategies and a slight advantage on the timing Weather4D PRO, Examples :
Route Port-Leucate to La Maddalena
Back Route La Maddalena to Port Leucate
Only remains to integrate sea state, under development, and tidal currents really reliable when files available.
But, already, this new feature push Weather4D PRO applications on top of main French routing apps like MaxSea and Adrena, while addressing a large audience of sailors sailors with a particularly competitive price.
In "Final Candidate" at the time I publish this post, the result is frankly… impressive !
—
(¹) View the profile of Olivier Bouyssou
(²) See the excellent article by Olivier Chapuis Sails and Sailing dated September.
(³) See Files format in Glossary.
—