Author
Born in Sweden 1953, professor of French literature at the University of Lund in Sweden, his first novel, « Long John Silver », edited by 1992, quickly earned a real success. Danish Translator, of English and French, philologist and criticist, he was repeatedly invited to the Festival "Astonishing Travellers" Saint-Malo. (*)
Björn Larsson has lived in the U.S., France and Ireland, including six years on a sailboat, the Rustica. Experimented sailorman, he cruised the seas from Scotland to Ireland, the North Sea to Brittany and Galicia, at the time of reckoning and RDF.
His second novel, «The Celtic Rings», appeared in Swedish in 1992, and French editions Denoël under "Le Cercle Celtique »In 1995.
The Story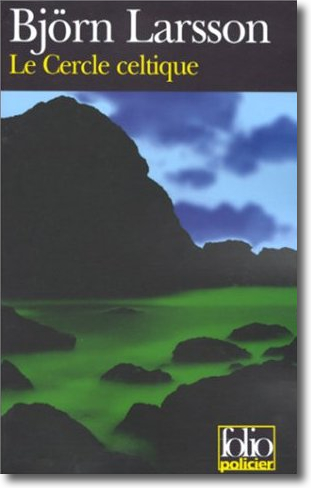 As the author himself defines, Le Cercle Celtique :
" … is not a real thriller, there is no Cop, no investigation, one dead ! The British and the Americans classify novel marine. In Germany and Italy, short novel. This may be the best. "
From two surprising meetings, including the skipper of a catamaran arrived at night storm in the port of Dragør, the narrator is plunged into an adventure that will take him up on the Danish coast to the wild west of Scotland on board Rustica, a sailboat 31 feet.
Assisted by his old friend Torben, Ulf will face the dangers of the North Sea in winter, and especially members of the mysterious Celtic Ring and their murderers rituals. In this thriller, which blends tracking, friendships, death and love, everything is true, but the story ! The sailboat is the author's, the sea route and the places are perfectly real, you can follow them on any marine cartography.
With this novel, Björn Larsson approach the great nautical adventure writers like Edgar Allan Poe (The Narrative of Arthur Gordon Pym), Jules Verne (The Sphinx of Ice) or Joseph Conrad (Typhoon).
Beyond history, the author makes us experience a wonderful journey through Scotland Water, its wild countries, its strong tidal streams, but its fabulous anchorages accessible to hardened sailors. And if the mood takes you to repeat the nautical trip Rustica, be sure that you will not be the first : many fans of the novel are already gone before you ! (**)
—
(*) Interview of Bjorn Larsson – Voiles & Voiliers 12/2009
(**) The croisière en Ecosse Hubert de Perio
—
Other titles in the Reading section
—