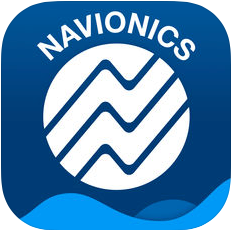 Since Garmin has acquired Navionics (¹), it will not take more than a year for Navionics also make its small (r)evolution in its flagship iOS and Android application . New logo, renouncing the multiplicity of applications, abandonment of duality iPad/iPhone, pricing standardization, bring, among other changes, a little more consistency in supply.
Recall that Navionics mainly targets, with its application Boating, coastal boaters customers, motorboat in fishing-drive or sailing day-boat, up to 10 nautical miles far from the coast. As a result, it focuses on 95% of the world's yachting with global map coverage, which has made the application widely leader in boating market.
To suit this customer target, a very easy application to use, without complicated function of TCP / IP or AIS reception, but the emphasis in early 2010 on community sharing (²), bathymetry (³) and some sounders connection.
Now, there will be only one application : Boating Marine & Lakes, to download, to test with a chart to select available during 10 days. Then it will buy. All older applications (HD Europe, "Boating HD", aso.) will be deleted, transfer to Boating Marine & Lakes can be free by following the proposed procedure. It can even restore purchased expired charts, but beware : it will buy Navionics+ update to recover waypoints Goto function, autorouting, tracks, etc,.
With Navionics +, the standard 2D charting is to purchase added with SonarChart. With Platinum+ we access to Navionics 3D charting but not for mobile, only for chartplotters with memory card.
The user interface has been simplified and refreshed, with zooms on the navigation data.
It will appear the information from ActiveCaptain database, also acquired by Garmin, as well as data from Community Edits.
THE +
Now single application for iPad / iPhone.
Charting single price iPad / iPhone.
Lower pricing ± 30% for iPad and ± same prices for iPhone.
ActiveCaptain built-in.
Sync with some plotters (only SonarCharts Live).
THE -
Still not compatible with iOS SplitView function.
WiFi compatibility only with some fishfinders (no NMEA or TCP/IP).
Autorouting Dock-to-Dock function against the good seamanship.
Tides and currents data only up to 3 days.
SonarChart map to be used with great caution, to banish for navigation (

³

).
Navionics Boating is therefore perfectly matched to its users target. It also helps to be a great addition to cartographic applications more oriented offshore cruising, like Weather4D Routing & Navigation User Guides, whose charting issued from formal services does not present sufficient details in some remote places of the world.
I can not say it enough, given the low cost of applications and charts on mobile devices, it makes perfect sense to double sources of nautical information, navigate virtually with belt and braces. Too bad that only Boating does not yet support the function SplitView.
–––
(¹) Charting actors…
(²) Navionics Mobile and community sharing
(³) Marine Navionics always stronger
–––