HF Weather Fax at Black Cat Systems is an application for decoding facsimile weather maps on an iPad, an iPhone or Android device. The analysis and forecast maps are provided by radio stations around the World. Broadcast on shortwave, they can easily be received by SSB receivers as found in catalogs for pleasure.

The facsimile maps :
The National Weather Service (NWS) publish the full list of world stations, with their frequencies, schedule for many data broadcasted in a document as a free download in PDF format updated every year. L'ouvrage RSX99 du SHOM (previously paying) also provides all station and broadcast information for the North Atlantic areas, from Europe to the Caribbean.
For Western Europe, in example, radio station in Hamburg broadcasts a surface analysis map (*) for North Atlantic from 05:25 and 18:00 UTC, and surface forecast maps(*) term H 30, +48, +84 and +108 from 5:12 and 8:17 UTC, and again from 18:30 UTC. Some maps are rebroadcast. Station Northwood U.K. also provides many forecast maps throughout the day. There are currently spoiled for choice !
The app :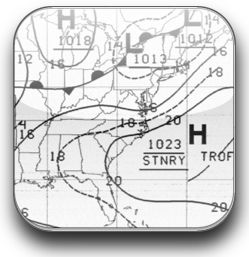 HF Weather Fax is a decoder to display in full screen weather maps received by the SSB receiver and save it. A view shows the quality of tuning and so allows to adjust as finely as possible. At the first use of the application, if the received image is slightly slanted, due to slight timing variations between devices, adjustment buttons allow correct display, This initial setting is saved. It is important to note the fact that you usually need to tune about 1,9 kHz lower in frequency than the listed carrier frequency in a schedule, and then use the fine adjustment of the radio for proper reception of picture elements in black and white. Saved maps can be exported to a computer from the Documents folder of the application in iTunes.
Installation :
For best reception from a small leisure SSB receiver, it will important to take care of your installation, otherwise you may get disappointing results, especially on the high seas. An antenna dedicated to shortwave reception is desirable, the telescopic antenna of the device can not be deployed inside the boat, and not always completely, this can cause a significant loss of signal.
To avoid interference and noise in direct sounding, it is best to plug an audio cable adapter specifically designed to connect the receiver to the headphone input of Apple devices. an adapter can be used Audio line for connecting with an audio line out jack 3,5 mm (1/8") in headphone input on an iPad / iPhone. It incorporates a built-in attenuator which reduces the line level signal down to a mic-level signal suitable for input for recording. It works with cables with a mono or stereo connector (1/8")″(3,5 mm).
The advantage of this light installation weather reception is to avoid, for short sailing off, to invest in a satellite phone without which GRIB files request is impossible . There is thus, between two internet connections near the shores, weather forecast off cheaply.
—
(*) Also called "front charts" because they represent the warm and cold fronts for Lows.
—