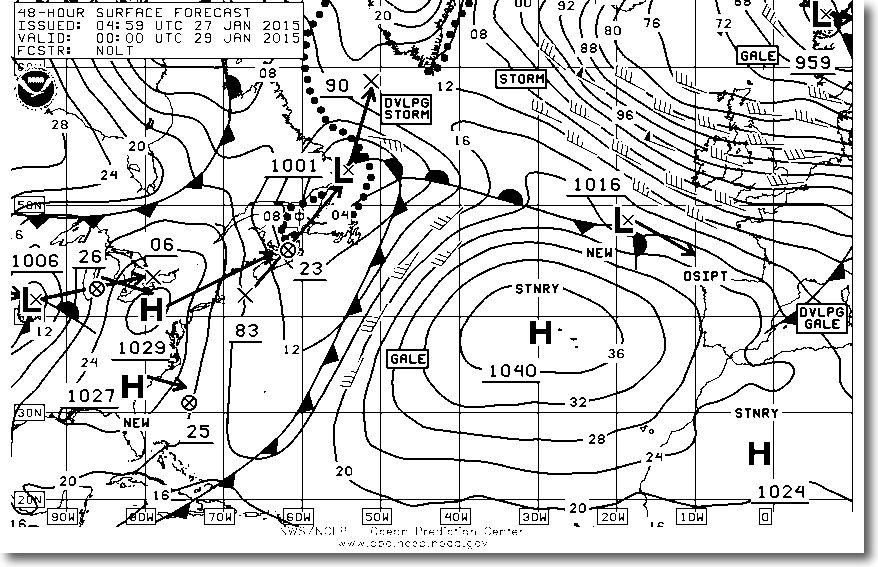 Weather analysis and forecasting maps developed by the NOAA (USA) and the Met Office (UK) cover vast areas over the Wold. They can be obtained sending a request by email to the weather server of british company MailaSail. With the latter, many maps are available in a listing (¹) in which simply click on the links to load the request in a message ready to send.
The page containing these links can be saved in RTF format in the Apple app "Files" carefully choosing "Location > On my iPad" and taking care to create a "Weather" folder in it beforehand, to be used on a regular basis for new requests from the tablet.
Two file formats are available for each weather graphic : standard size (about 40-60 KB) and reduced (SMALL : about 20-30 KB). So we can get these maps by satellite phone choosing the SMALL size. A simple tap on one of the links opens the editor window in Apple Mail prefilled.
Reception in Apple Mail
Once received in Apple Mail, the graphic is displayed as an attachment after the text. A tap on the image allows to share with Apple app "Books".
Reception in Iridium Mail & Web or XGate
Same as above. But it will make a copy and paste the file name, or enter with keyboard (in example : PYAA11.TIF all caps) in the field "Object"And enter the email address" weather@mailasail.com ", leaving empty the text.
Ces cartes météo graphiques représentent un indispensable complément aux fichiers GRIB en navigation au grand large. They are easily downloaded by satellite phone thanks to small sizes.
—
(¹) Download MailaSail weather maps request listing
—