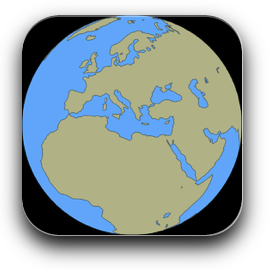 A few days before going on a long trip from Toulon to Noumea, My friend Christophe Mahé introduced me to this application that I had gone unnoticed. I sincerely thank him ! As it is never too late to do, some exchanges with the developer helped me install this application on my iPad with all its options. SEAiq was posted on the AppStore in April 2012. Its developer, Mark Hayden, is a Californian computer engineer living a good part of his time with his family or alone around the world aboard his Super Maramu, happy man.
SEAiq Open (¹) is the only application on iPad / iPhone for using vector charts ENC IHO official standards S-52, S-57 and S-63. With information database included in these charts, and update systems , SEAiq transforms the iPad into a true ECDIS (²) professionnal.
SEAiq is available in three versions :
SEAiq USA and SEAiq Free : reserved for American boaters can automatically download the RNC and ENC charts from NOAA (

²

) that, it bears repeating, are universally free. Free SEAiq can test SEAiq USA version before buying, and unlock all features through purchase in-app (9 €).
SEAiq Open : the standard version supporting ENC charts already mentioned, Inland ENC, CM93, raster charts BSB / KAP (MapTech) and with all the premium features. We can test this version for free for a week (can reinstall repeatedly) before unlocking the Premium option by purchasing in-app (18 €).
SEAiq Pilot : Open version with advanced functions for coastal, harbour and river pilots ($200).
Usability
Do not dream, we are here with an application whose sole purpose is to be functional. The interface is sadly professional, but available functions via gestures of the iPad are complete : tap to get Latitude / Longitude, Bearing and distance of a place, Double-tap the shortcut menu, sliding two fingers to zoom in / out- and chart rotation, etc. Simple and effective. A top banner or right side drawer are alternate to display navigation and NMEA data (if connected). No transparency effects or pop-up window, but a simple display and three color levels for the display modes day, twilight or night.
In practice, however, a difficulty arises : lack of display responsiveness. S-63 ENC charting is encrypted and application has diificulty in display charts when zooming or drag the chart. It often takes several seconds before the display be refreshed. It is inherent in this charting format. In return, processing of the data displayed on the charts (texts, objects, information) has been very carefully from the developer and provides a close reading of raster charting. You can see from the screenshots above.
Although the application is in English only, help texts provided extremely detailed and can take over the operation, starting with the purchase and downloading chats is a true way of the cross (Navionics charts purchase on X-Traverse website is a breeze compared !).
Settings
Both say immediately : settings are overstaffed ! I counted nearly 80 on the main display, units, Card types, Vessel, management waypoints, routes and tracks files, measuring tools, NMEA data, AIS targets, import / export, and many more, nothing seems forgotten.
Functions
Once again iit is difficult to find fault with the application, As for the provided features for the wealth of settings that affect. In addition to the basic functions for the management of waypoints, routes and tracks files, SEAiq provides :
Full access to data associated with vector charts.
Display VRM and EBL (

³

) on the chart as a radar by simple fingers gesture (requires a small learning).
Operating GPS iPad / iPhone or external GPS NMEA (if connected)
Client / Server NMEA function : display data received (client mode) and share data with other devices (server).
Using the GPS position sharing connection from another device (iPhone / iPad) if only iPad WiFi.
AIS target display realistic representation, prediction of route and rate-of-turn. Alarm occurrence of a new target. Display data from the target, with CPA/TCPA.
Transfer waypoints via TCP to a plotter.
Automatic display of weather data from NOAA or manual request by email (Wind and Pressure).
Import and export of routes in GPX format.
Support community database ActiveCaptain.
Access to the global tides app AyeTides (as iNavX) to display tide stations nearby.
Alarm adjustable dampening.
And I certainly have forgotten something.
Summary
As you can see from this quick lookup SEAiq is a rather reserved application for leasure boaters, professional or experienced, who wish to have a formal charting can be updated. For those sailing in the Pacific Ocean, the application allows the passage of the International Date Line, that does not iNavX with Navionics. It is such an application we will find on the navigation room of merchant ships. No wonder an advanced version is offered to professional pilots.
However, we must be aware that the ENC does not cover in detail all parts of the world, and comparisons made in several areas of the globe with Navionics show a lack of details as you move away from the main routes and areas frequented by merchant shipping (⁴). In addition, to cover a large trip, le nombre de « cellules » à acheter pour disposer des cartes générales aux cartes les plus détaillées peut représenter un budget conséquent. The first thing to do, before starting with such an application, is to visit the site ChartWorld and explore the extensive catalog of ENC and prices.
Having, SEAiq is for me a happy discovery, a big congratulations to the designer.
—
(¹) La terminaison « iq » pour « intelligence quotient », par exemple « intelligence à la mer ».
(²) The definitions of all these acronyms are in the Glossary.
(³) VRM (Variable Range Marker) draws a distance circle around the boat (or an object) to assess the distance of all objects falling within this circle. EBL (Electronic Bearing Line) mobile line to know course and distance between two points or between the boat and a point on the chart.
(⁴) See my post The difficult choice of electronic charting
—