Delivered in AppStore this morning after two weeks of revisions and contre-revisions of Apple services, still more picky, the new version is finally available. On the menu and in bulk : AIS by internet with AISHub, direct access to Geogarage and cache memory chart management, new model of GRIB weather forecast from Meteo-France AROME HD for inshore races, full-screen mode, advanced distance calculations, the most visible. Under the hood also a lot of optimization for routing and power consumption. Review of detail to follow…
AIS
AISHub is a service of tracking AIS covering most of the northern hemisphere and the busiest navigation regions of the southern hemisphere. It has the particularity to function as a centre sharing of raw data NMEA AIS. This allowed APP4NAV to integrate this service in real time in Weather4D 2.0, in addition to the own vessel AIS reception. This of course requires an internet connection, but the generalization of the 4G cellular network often allowed in coastal navigation.
Charting
The Geogarage service is now directly accessible from the application, to register and buy the necessary charts. User manual describes the procedure. We now have the ability to manually clear all of the charts contained in memory cache. The charts loading is done, either by displaying the areas you want and zooming in on all levels, is now more simply by using the function of preloading.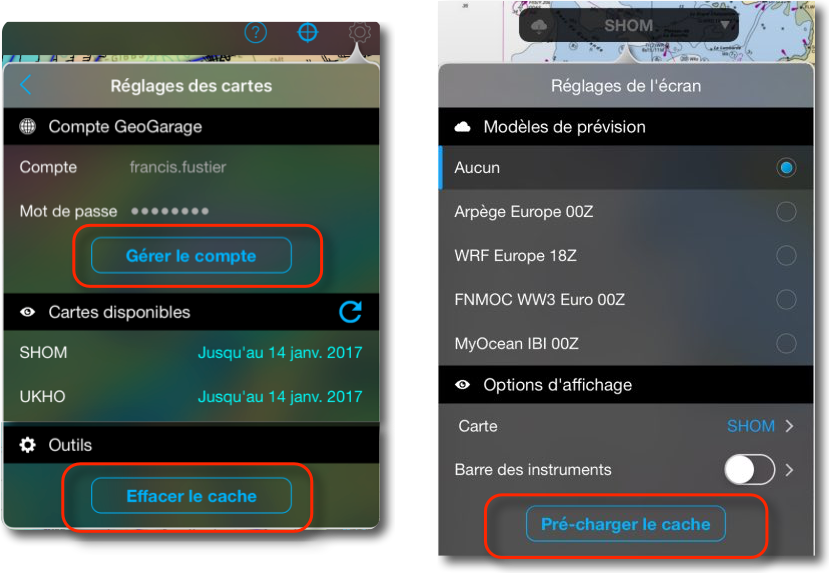 The cache memory of 1 GB is shared between nautical charts, satellite imagery (Bing) and land maps (OSM). It is awarded in a protected memory area, cannot be deleted only by a user action : exceeding the memory size by loading new tiles or action on "clear cache" button..
Routing
Many improvements in the use of the function, with in addition the weather model AROME HD from Meteo-France, the finest resolution available today on our shores, with a grid of 0,6 NM, wind data only allowing, associated with MyOcean currents , a sharp routing for the small racing course.
User Interface
You can switch to display full-screen by a double-tap, same gesture to return to normal display. The direction of the wind, waves and currents was absent from the data labels, this is now fixed. A tool for measuring distances, quite sophisticated, also fills this gap. You can make multiple simultaneously displayed distances, snap one end on the position, an AIS target, both, or even two AIS targets. A single gesture : a long press with two fingers (any fingers, even with both hands). Magic !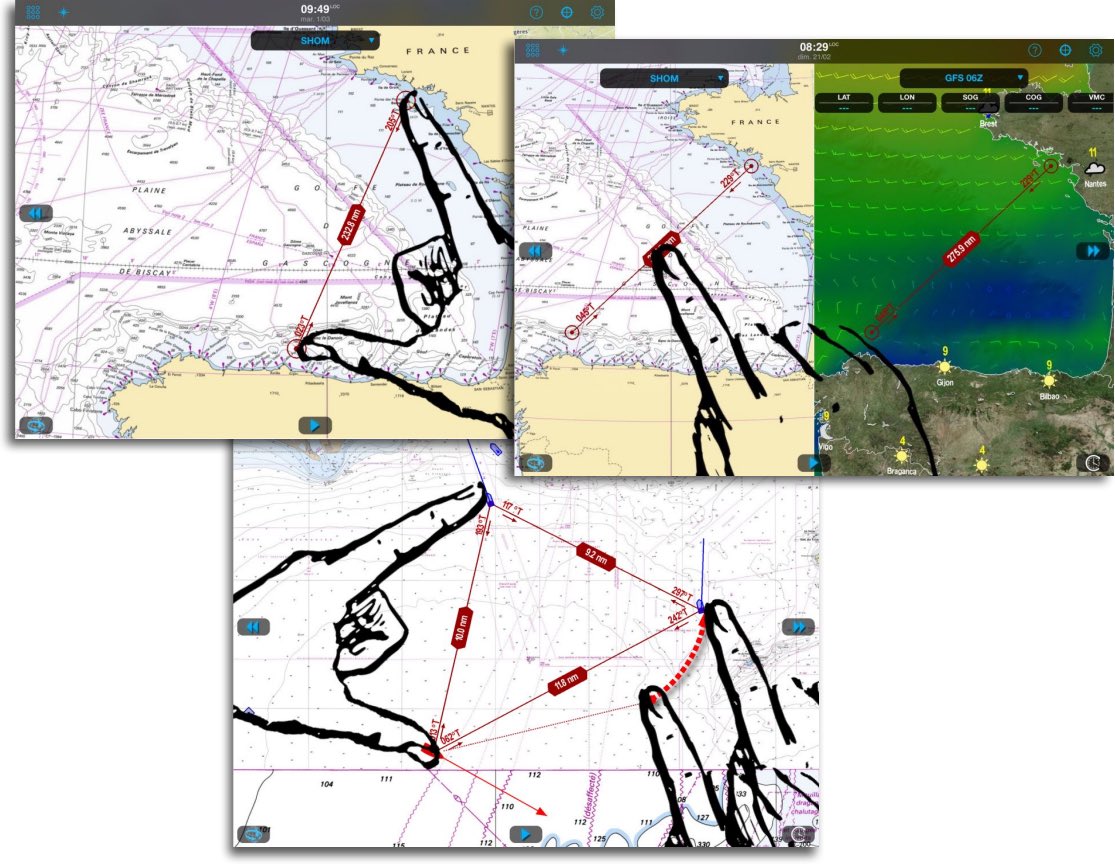 Finally with the apparent improvements, You can now export routes in GPX format with generic iOS export icon. The import in the same format already being active in the previous version.
The rest is to be found in the page What's new on Weather4D web site, and of course in the users tutorials in French and in English.
———