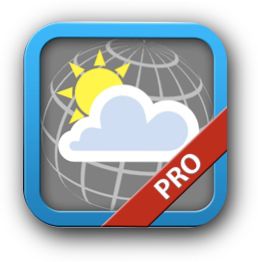 With version 1.3.2, Weather4D PRO allows to get and display currents as GRIB data. At first, currents available are provided with subscription by Tidetech, I mentioned there in the past (¹). Once entered in Weather4D PRO settings a username and password, provided during the subscription, you can access Tidetech global catalog.
Only a PRO subscription to Tidetech provides GRIB format files. The company is considering a specific offer for applications on iPad / iPhone.
The choice of available currents files is fitted to the geographical area defined previously, and GRIB file downloaded after weather file contains only the extraction of data delimited by this area. This allows to optimize the file size.
For currents data, units have been added, a specific setting for display as for other data as well as the parameter "Currents" in the meteogram.
Once the latest file downloaded, following the weather file, the routing module includes this parameter in addition to the parameters of wind and waves, in order to calculate the optimized route, as in the video below :
[wonderplugin_video iframe="https://vimeo.com/54778822″ lightbox=0 lightboxsize=1 lightboxwidth=960 lightboxheight=540 autoopen=0 autoopendelay=0 autoclose=0 lightboxtitle=" » lightboxgroup=" lightboxshownavigation=0 showimage=" lightboxoptions=" videowidth=600 videoheight=400 keepaspectratio=1 autoplay=1 loop=0 videocss="position:relative;display:block;background-color:#000;overflow:hidden;max-width:100%;margin:0 auto; » playbutton= »https://www.navigation-mac.fr/modules/wonderplugin-video-embed/engine/playvideo-64-64-0.png »]
TideTech prediction relate major ocean currents, and tidal streams in many regions of the world, as the English Channel and the Strait of Gibraltar, in example. Eventually Olivier Bouyssou hopes to integrate SHOM tidal streams for French shores, discussions are initiated.
"Currents" factor, essential to the relevance of routing, pushes further the unsurpassed quality of this Application.