The relationship of a recent experience of an iNavX user and Weather4D PRO routing function invites me to bring a warning to the attention of novices boaters in computer use.
A regatta course, from St Helier (Jersey) to arrival Granville, optimized with Weather4D PRO using fine grid GCWF model and MyOcean currents prediction, gave the following route in iNavX :
The Southeasterly moderate wind and favorable current North East of Jersey traced a route through the rocky plateau offshore Jersey Southeast. When optimizing, it is apparent that the minimum distance constraint to the coast, defined as routing argument in Weather4D PRO, had kept its default 0 NM.
It seems obvious that this route was not to be followed ! By looking more closely at the physical layout, an option by passing the Violet Channel allowed to join the favorable current leaving the plateau of Arconie starboard. But this required a good knowledge of the passage, the orientation of the current, and excellent visibility.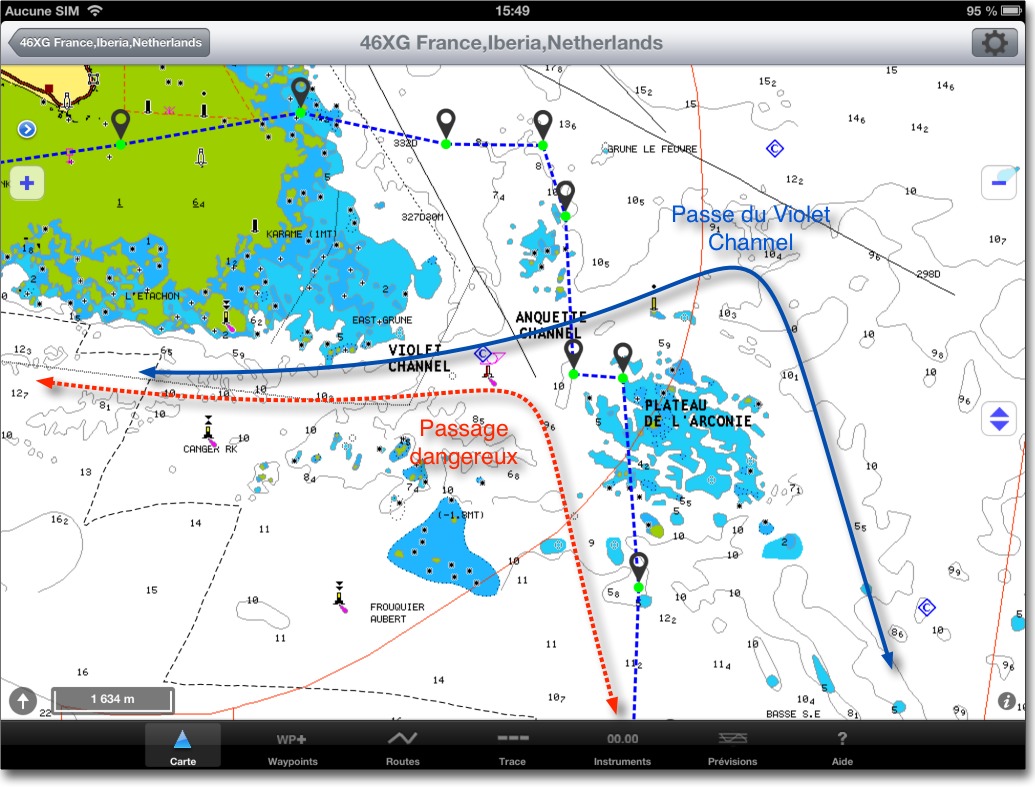 On screenshots above, we see the black dotted line track actually traveled by the sailor. This one, as an advised mariner, preferred to lose a few seats tacking healthy water rather than venturing into a tricky passage.
With the latest navigation applications associated with electronic charting, comfort provided should not overshadow the seamanship. As, contrary to appearances, one unknown part of imprecision is related to the implementation of these technologies.
Indeed, although the accuracy of the GPS system is indisputable, it is not necessarily the same for charting. ENCs are, mostly, reproductions of paper charts which lifted (hydrographic surveys) sometimes dating, in some areas, a time when the positioning means were much less accurate than today. On the other hand, reproductive technologies may be vitiated by error, as, for example, a bad datum conversion of original chart. Accordingly, if my position is accurate to within three meters, the rock outcropping focused on my PCB hundred meters from my position may well, actually, not lie only a few meters.
In coastal race, shave the stones is often tempting, but beware of the false security that brings a ship icon scrolling on an electronic chart, it will never replace good alignments checked in the landscape around the boat (*).
–––
(*) See About alignments and sextant
–––