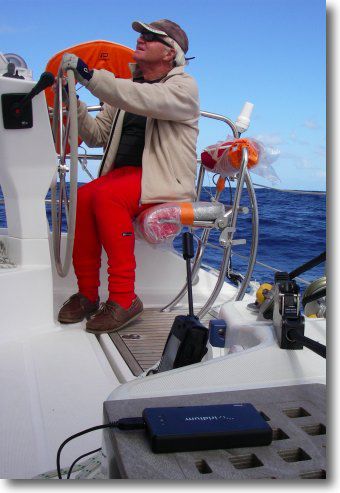 With Weather4D PRO and Iridium Mail, associated with a satellite phone Iridium, we now have a complete solution, reliable and low cost to receive, display and manage GRIB files in open seas with iPad.
iNavX and Navionics cartography also provide a complete navigation solution, supporting files transfers with Weather4D PRO : GRIB, routes, tracks, that allows simultaneous display in both applications.
These solutions, fully complementary and mutually consistent, were tested on more 2800 NM in the automn during a crossing from Canaria to the Caribbean, on board Catana 47 " Gust ", token place in ARC rally 2011. In addition, Olivier Bouyssou was able to improve his Weather4D Pro application "over time", correcting, adding and optimizing daily development onboard.
Christophe Mahé skipper, developer Olivier Bouyssou, and I, were able to implement a daily basis following hardware and software.
We had :
Two Iridium phones (9505a et 9555)
An external antenna connected to the 9505A
A flat magnetic antenna for 9555
Iridium AxcessPoint router provided by GMN (

*

)
Un iPad 1 (wifi 3G)
Two iPad 2 (wifi 3G)
One iPhone 3GS
One iPhone 4
And applications for iPad / iPhone :
iNavX
Weather4D PRO (The first version was published on 22 November)
Iridium Mail & Web app
Files Connect (for files transfer between our touchpads, smartphones and MacBook onboard).
Responsible for testing AxcessPoint for Global Marine Network (*), application designer of Iridium Mail iPad / iPhone on behalf of Iridium, Olivier was also able to test the quality and connection times, depending on the type of antenna used, and test the usability of the application.
Luis Soltero, director of GMN, sent us this e-mail :
" You are getting amazing transfer rates over Iridium […] at 58 K in 3 minutes, that is a raw throughput speed of 3118 bps significantly higher than the 2400 bps.
Note that this is not the effective throughput which was 4700 bps for this transaction, but the transfer of the raw data. That is about the highest figure raw transfer rate I've ever seen over Iridium. Very impressive, if I may say so myself.
Luis Soltero, Ph.D., MCS
Director of Software Development, CTO
Global Marine Networks, LLC "
The implementation of these devices will be detailed in future articles on this blog.
We can already confirm that the solution set works on both iPad iPhone, including with my "old" 3GS.
Be patient and stay tuned…
—
(*) Global Marine Network
—